This is the Kit - Off Off On (Rough Trade Records)
Expat Bristolian singer-songwriter leaves lo-fi roots further behind with this subtle, beautifully crafted new LP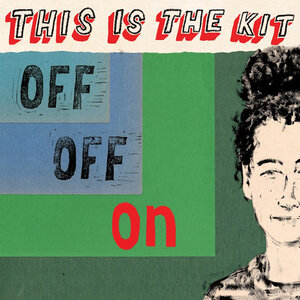 Being a music geek is a frustrating business sometimes. There are just too many intriguing acts out there, in the infinity of the internet. If you never ever slept, you still couldn't hear a fraction of the records you'd like to.
This brings us neatly to
This is the Kit
. Until the other week, the BBC Radio 6 Music faves, fronted by singer-songwriter Kate Stables, had been around for a good decade, garnering great reviews and working with producers such as PJ Harvey deskmeister John Parish and The National's Aaron Dressner, without reaching this writer's ears. However, the situation has now been rectified - and it's been time well spent.
Off Off On
, Stables' fifth record, was written before the pandemic hit, but many of its preoccupations (anxiety, illness, doubts, hope) feel especially relevant to the deeply peculiar time we are now living through. I guess that kind of synchronicity tends to happen when you're an artist with finely attuned, twitching antennae…
Like many of the great singer-songwriters of the 60s and 70s, she has moved on from the stark, folky simplicity of her first records.
Off Off On
eludes obvious genre descriptions, its subtly interwoven sound clouds placing Stables' clear vocals and subtly phrasing in a pulsing, rhythmically churning mix of percussion, horns, minimal but perfectly placed acoustic and electric guitars, keys and background vocals. This is warm and welcoming music, subtly put-together and always accessible. There are hints of folktronica pioneers Tunng, but this dish is distinctly the artist's own recipe.
The album is a tender, detailed exploration of the endlessly shifting emotional states, mini-crises and epiphanies we all experience every day. The dense, criss-crossing lyrics juggle different personas and perspectives, to create a much more democratic, all-encompassing viewpoint than most singer-songwriters even try to (
'I'm right! You're wrong! I'm so sensitive!'
).
The tunes fall into two basic categories: the mid-tempo, musically rich but not overstuffed likes of opener Found Out, with its rolling drums, ringing west African guitar and apparently simple but multi-layered lyrics; and slower, more spacious tunes like Slider, with its murmuring sax and beautifully orchestrated horn interjections.
This Is What You Did
considers how a tendency to overthink and question everything can turn the mind against itself; No Such Thing examines an argument in depth ('
Do you know what you're cross about / And that you're cross with me?'
) before concluding that some relationships are worth fighting for ('
Keep the current between you and me / Electricity…'
).
Coming To Get You Nowhere
boasts a swoony bridge to die for, and some of the album's loveliest singing - a good indication of how unconventional the album's structures are. Shinbone Soap has one of the album's best melodies and a great metaphor: the vampire has to be let into the house by the ones he loves.
After all these tales of struggle and uncertainty, we are grateful for some hard-earned uplift to close on a positive note. Was Magician, inspired by sci-fi writer Ursula K Le Guin, depicts a young woman battling through adolescence before discovering her sexual power, a paean to the eternal feminine: '
When she came into her power / she was younger than the others…
'
The closer Keep Going soothes us and leaves us smiling, with its tale of love renewed, the ecstatic near-repetition of the phrase '
This love has been ours / this love is still ours…
' reminiscent of Van Morrison's approach on the sublime
Astral Weeks
.
Off Off On
sees This Is The Kit reach perfect maturity. This is a soulful, deeply rewarding record worthy of repeated exploration, and it's arrived at the perfect time. Hey, what else have you got to do this November?
4/5