The John Steel Singers - Everything's a Thread (Full Time Hobby)
Lovers of summery sunshine-pop, meet your new favourite band...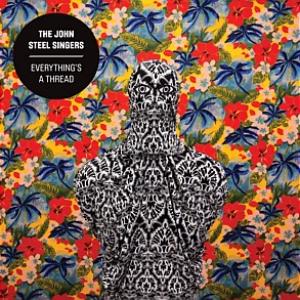 Bearded is starting to suspect that there is a secret production line churning out great Antipodean psych-pop acts. After Tame Impala, Unknown Mortal Orchestra et al, say hello to Brisbane's
John Steel Singers
. Packed with hooks, their second album flits between sublime jangling, widescreen motorik grooves and laidback reveries with ease. Packed with tasty sonic details, its warm and spacious production is endlessly interesting, and somehow never feels cluttered.
Everything's A Thread
has harmonies to die for, but rations them for maximum effect. Indeed, this shape-shifting bunch (named after band member Tim Morrissey's toy horse, fact fans!) never stay in one style for long. They can do perfect pop: 'Common Thread' is insanely catchy,with the instant familiarity of the classic single. But the boys can also wig out - the motorik groove of 'State of Unrest' has attitude, its Lydon-esque sneery vocals and hints of psychic distress one of several times this album acknowledges the dark side. Penultimate number 'TGI Tuesdays' is another krauty groove that could happily run on for ten minutes.
It may conjure up images of bongs at the beach and carefree pool parties, but this record isn't all 'hello trees, hello sky', while there are enough modern touches to escape the trap of overly reverential 60s/70s pastiche. A smokin' rhythm section gives tracks such as 'Lambs' the funk factor, while an intermittent 80s pop sheen adds another intriguing twist.
'Never Read Tolstoy' is the album's most Anglophile track, a quirky story song a la the Kinks about someone with ideas above his station ('
Too much culture for a Brisbane boy...
') But some of the most safisfying moments are when disparate elements are melded together to form unlikely but lovely hybrids. The odd but wonderful 'There's a Bird' creates a whole new style - dub-jangle - which shouldn't work but indisputably does.
While the chaps can rock out when they choose, they seem happier changing down a gear or two. 'MJ's on Fire Again' closes the album on a high: a mellow groove complete with angelic harmonies, flute and widdly guitar interjections. Perfect for that next barbecue party.
The redux version of the album meanwhile comes with six impressively tight live tracks, including a version of 'Strawberry Wine' with The Go-Betweens' Robert Forster, who produced their debut album; and an epic version of 'State of Unrest', with added paranoid monologue thrown in.
Everything's A Thread
isn't perfect but it's a great feelgood record. Track it down before the sun goes in...
The John Steel Singers Links