The Go! Team: The Get Up Sequences Part Two (Memphis Industries)
Technicolor mash up purveyors par excellence, the 'Team return with blazing seventh album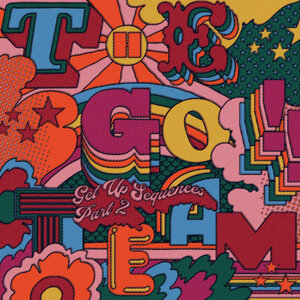 Following hot on the heels of its 2021 issued
first instalment
,
The Get Up Sequences Part Two
proves to be a stronger set than its predecessor. Amidst the reliable quota of inspired collaborators brought onboard by TGT mainman Ian Parton, Brooklyn MC Nitty Scott makes her presence felt on brass assisted old school NYC hip-hop blast
Whammy-O
.
Plaiting West African vocal harmonies and high life guitar melodies
Look Away, Look Away
and
The Me Frequency
are sterling genre melding exercises led by Benin group The Star Feminine Band. Recalling underrated (on this side of the pond at any rate) Californian outfit The 5th Dimension, the superbly titled Getting To Know (All The Ways We're Wrong For Each Other) is prettily melodic sunshine pop.
Cranking up the voltage Stay And Ask Me In A Different Way and blazing lead single
Divebomb
showcase the 'Team's combination of gnarly Sonic Youth guitar textures and girl group melodicism. By contrast Going Nowhere is sonically skew-whiff and all the better for it, sounding like a Casinotone keyboard with fizzy drink slopped over it, making the most of a minimalist electro patina and vintage drum machine.
The final stretch is the strongest, as talismanic frontwoman Ninja steps up to the mic for the brilliantly forthright
Gemini
"
Well I might be braggadocious / I'm a Gemini / Baby I can't help it
", while Train Song is a woozy pedal steel embellished glide across the US plains at sunset. Baby, featuring Bollywood playback singer Neha Hatwar on vocals is the sound of a dozen King's Road boutiques blaring out Ravi Shankar and Summer of Love acid rock, heading towards the run out groove with a psychedelic wigout that evokes the Beatles' Love You To put through a Nutribullet.
While some groups might want to ease the pace seven albums in, the eighth track here But We Keep On Trying underlines the raison d'etre for TGTs continuing mission. Succeeding too.
4/5