The Drink – Company (Melodic)
A slow burner of pebble beaches and overcast skies, delivered with joy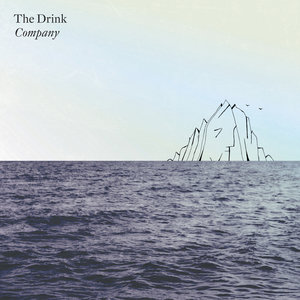 Venerated London record shop Rough Trade apparently went against their rule of not stocking unsigned bands to put
The Drink
on their shelves. And at first listen,
Company
glides along and passes without much to grab you by the jugular. It doesn't shout about itself, but with its plucked clean, lightly distorted guitar riffs and lyrical turn of phrase, it slowly works its influence.
London trio The Drink, roll though 12 observations on life in
Company
. The clean crunching bass guitar work and chirping vocals bring a bleak, wintery tone to the album. And the lyrics lay on "People and places [to] shape the sound … watching people do their thing and also looking at billboards thinking that everything is fucked." as the Dublin born lyricist, singer and guitarist for the band, Dearbhla Minogue, puts it.
The strengths of this album are no better demonstrated than in three tracks – 'Dead Ringers': bleak tales, 'Playground': cutesy chirpy siren choruses and 'Haunted House': washing through tones and flowing through phrases.
There is a healthy amount of twee twist to Minogue's lyricism such as, "
Never turning up in a cheap dress/To bury your own mother and she's only twenty-one
" from 'Haunted House.' Or referring to school bullying and recognising a girl as "
Bantamweight/None too heavy and never too light
." The characters involved throughout are more ordinary than an exceptional, and that's where the charm is. It is the middle ground of normal life, with the bright and poppy standing right next to or swimming with the dark. And it's these slow working details that mean it takes a few listens to appreciate the LP.
Because bleak songs are always the most fun, 'Dead Ringers' is more like it. It has ghoulish intent drowned down in deep water. Speaking of "
The birds are squealing love played by a dead man's fingers
" and, essentially, drowning. As winter draws in this is a timely talk of bleakly, heavy crushing waves and dufflecoats, the whole album brings over a feeling of being written while observing pebble beaches with overcast skies. But its delivered with joy.
All throughout
Company
there are memorable and forgettable moments. As The Drink are walking down the same muddy paths and pebble beaches as Veronica Falls' self-titled album, there are some delightfully bleak instances. But unlike Veronica Falls' debut it is not an instant assault on the senses. It is a slow burner. A little more like the bands cited as influences due to the oddities of their time signatures Joanna Newsom, The Breeders and Captain Beefheart.