The Burning Hell: Garbage Island (BB Island)
Canadian indie troupe tackles the pandemic and eco-catastrophe in surreal lockdown concept album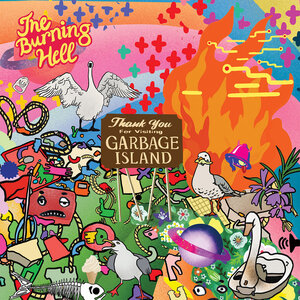 Over the past decade and a half,
The Burning Hell
frontman and songwriter Mathias Kom has written a wodge of classic tunes (Amateur Rappers, My Name Is Mathias and Pass the Wine, Fuck the Government, I Love You, to name but three). But his witty, joyous ditties are best experienced in a live setting, where the band's lo-fi charm, stagecraft and audience rapport make them unmissable. They haven't yet produced an album as magical as their gigs. But every collection has its moments and
Garbage Island
has plenty of high points.
Kom has already tackled the pandemic with 2020's ace I Want To Drink In A Bar ("
You can come too...
"). He lives on a remote Canadian island with bandmate, partner and occasional sax heroine Ariel Sharratt, so in a way they had been socially isolating for years even before lockdown hit. When Covid arrived, tours were cancelled and they were deprived of their major source of income. But this gave Mathias plenty of time to ponder the big existential questions posed by this very peculiar situation, and share ideas with bandmates through the digital ether.
He gazed at the nearby Pacific Trash Vortex (yes, that's its actual name), miles of ever-circling waterborne plastic crap, and began to form a dystopian vision.. Society has broken down and the survivors - both human and avian - struggle on, finding joy in odd places as they sift through the wreckage, freed from their old routines and systems of oppression. Humans and birds bond as the world goes to hell. Hey, you gotta laugh, right?!
Kom's mournful baritone channels Bill Callahan in opener No Peace. An inspired garagey chug, it is filled with intimations of disaster ("
Why do I get the feeling something awful is going to happen?
"). A lyricist prone to apocalyptic imaginings, Kom finds that real life has caught up with his brain.
Nigel the Gannet marries cheesy synth riffs and XTC references to the (true) story of a gannet who fell in love with a plastic bird. The rousingly anthmic
Birdwatching
(spotting a theme yet?) sees our album's slacker characters relishing the perfect excuse to dodge the 9-5, where 'success' is a Pyrrhic victory. Tongue-twisting lines like "
I'm suspicious of ambitious folks but I'll race you to the bottom
" would fit perfectly on Never Work, an anarcho-slacker-activist duet album which saw Mathias and Ariel eviscerate Deliveroo et al via take-no-prisoners anti-folk diatribes.
Adorned with fingerpicked guitar and (synthetic?) strings, the gorgeous Dirty Microphones is a paean to the joys of playing music, even if it is to "
Five or six drunk kids at SXSW '56
". Meanwhile, the alternately rockin' and funky Empty World uses a killer guitar riff and undulating bassline to declare its love for the B52s, nature and everything (and everyone) suddenly out of reach in a world of cancelled gigs and poisoned birds.
A sweetly folky, low-key three-song segment chills things out for a bit. Minor Characters' fingerpicked guitar and flute is followed by All I Need's Spaghetti Western vibes and uber-mellow escapist reverie Swan Boat.
Bird Queen of Garbage Island
is this writer's album highlight, stretching out over five minutes-plus of lo-fi dubby funk breakdowns and playful Tom Tom Club groove and chants (ask yer Gran!). Delightful stuff.
Matters conclude with the wittily titled The End Of The End Of The World. Its muted but hopeful strum leads the way back to a normality that had to disappear before we realised how much we loved it (even the crappy bits). Overall, Garbage Island doesn't quite maintain the excitement levels of its frequently anthemic first half. But there's nary a duff track, and plenty of lyrical and musical touches to keep you interested.
4/5