The Blue Aeroplanes: Welcome Stranger! (ArtStar)
An excellent, energized return by the Bristolian art rock stalwarts on their twelfth LP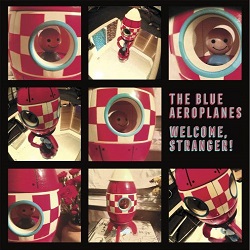 Mainstays of the UK indie scene since 1984, Bristolian art rockers
The Blue Aeroplanes
have carved out an impressive career as purveyors of literate, folk infused frequently spiky jangle rock. Led from their inception by lead vocalist Gerard Langley's sung-spoken lyrics and brilliant word play, the group's indie rock/folk approach led by Byzantine guitar lines and melodic choruses won them frequent comparisons to avowed fans R.E.M. in the late Eighties and early Nineties.
Receiving a much-deserved profile boost over the past 18 months via 2016 curator Stewart Lee's invite to play at All Tomorrow's Parties plus a slot at the BBC 6 Music Festival,
Welcome Stranger!
the band's twelfth studio album fizzes with the energy of a group just starting out. Aided greatly by a punchy production that places the spiraling guitar parts front and centre to provide a canvas for Langely's spoke-sung verses, choruses are carried by vocal harmonies and the seamlessly interlocking three guitar line up.
The beautifully played Retro Moon is one the best things here, alongside strident lead single Elvis Festival, which details a fantasy version of a convention dedicated to The King, while the explosive Looking For X's On A Map switches from a Velvet Underground-like drone into double times choruses. Sweet, Like Chocolate, a cover of chart topping 1999 one hit wonders Shanks and Bigfoot is thoroughly retooled, transposing the vocal melody to the guitar, creating a folk-rock gem from unlikely sources. The clean electric arpeggios and tapped drum pattern that powers Here Is the Heart of All Wild Things meanwhile is a dead ringer for
Hail to the Thief
era Radiohead, another group who have cited the present band as an influence.
The longest cut on the LP, string draped symphony Nothing Will Happen In the Future is the baroque centerpiece of the album while downbeat closing cut Poetland has an atmosphere reminiscent of early R.E.M. obscurities such as Good Advices. An excellent restatement of their talents that showcases the Bristolians at their ideal fighting weight,
Welcome, Stranger!
as the title makes explicit is the perfect introduction for new arrivals, returning fans and converts alike.