The Blood Arm – Infinite Nights (RIP Ben Lee)
It's a new path for the LA quartet, though they seem to have been led astray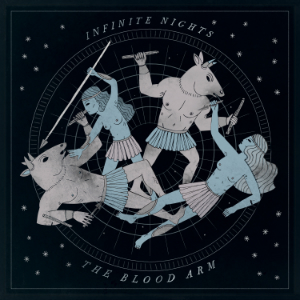 The Blood Arm
stand alongside a gaggle of similar sounding mid-2000s bands who, to varying degrees of sadness, went off the boil as their careers further progressed. The LA four-piece first grabbed attention with hooky, angular music that very much captured the zeitgeist of the time, but now, older and wiser, they have attempted a slower record than their fast-paced early work.
They manage to pull it off, but only sometimes. While the band must be commended for trying to push their music in new directions, most tracks feel like they are just missing the jump that would make them truly stand out, and instead leave behind a feeling of abject deflation.
Early tracks 'Wrong Side of the Law' through to 'Oh Ali Bell!' meander along, a strange mix of seventies rock pastiche and sleepy lullabies, before we eventually get a burst that resembles anything like what we'd expect from The Blood Arm with 'Sex Fiend', a whole eight tracks in, and by that point it's all a little too late.
There will always be questions about why artists choose to crowdfund their latest projects. With
Infinite Nights
, it's an attempt to move the band into a new direction, but it's a direction that's found them floundering and struggling to keep their head above water.