The Black Ryder: The Door Behind the Door (The Anti-Machine Machine)
Sydney via LA duo return with re-tooled sound on second LP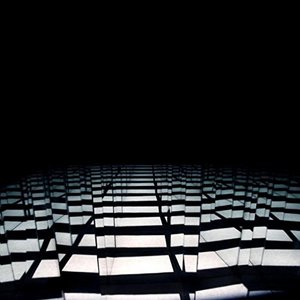 Six years after their acclaimed debut, the William Burroughs' referencing My Bloody Valentine influenced
Buy the Ticket, Take the Ride
, Sydney duo
The Black Ryder
return with a set that takes its cues from alt. country and Americana.
Arguably best known via vocalist Aimee Nash's appearance on 'Done All Wrong' the BRMCs contribution to the
Twilight: New Moon
OST, the duo have notched up several collaborations with the Motorcycle Club plus former and present members of the extended family surrounding The Brian Jonestown Massacre.
Now relocated to LA,
The Black Ryder
's excursion into noir country wisely avoids attempting to emulate the seminal but overdone country twang of Mazzy Star and Hope Sandoval's lissom vocals.
Issued through the band's own Anti Machine Machine label, with Nash and fellow member Scott Von Ryper on production duties,
The Door Behind the Door
rolls along slowly, making its unhurried journey through its nine sepulchral tracks.
Given that the band consists of two former lovers, the lyrics are given an additional edge, most explicitly on relationship/drugs/both (delete as applicable) 'The Going Up Was Worth The Coming Down'. Opening a stretch that represents the summit of the LP 'Let Me Be Your Light' is the best moment here, pairing Nash's breathy vocal with deep-pile harmonies and softly pattering drumbeats anchored by a bassline reminiscent of
The Dreaming
era Kate Bush.
The combination of synthesized strings and acoustic guitar frames the duo's alternate turns at the mic highly effectively. 'Santaria' sounds huge with the dramatic spotlighting of Von Ryper's vocals against little more than a guitar arpeggio, soft tom-tom rhythm and low-key Mellotron keys before the entrance of a saturated distorted rhythm guitar part that gradually builds into a drone.
The title of languid, gospel choir backed strummer 'Throwing Stones' is possibly a pun, a clear homage to
Exile On Main St
while 'All That We Are' distantly evokes Smashing Pumpkins doomy classic 'Disarm', toning down the melodrama of Billy Corgan & Co. for a low-key approach that sees the band indulging themselves with a chorus, the sole occurrence on the LP.
Combining a delicate music box melody with both singers' soft vocal incantation, penultimate track 'Until the Calm of Dawn' sounds not unpleasantly like Eels while '(Le Dernier Sommeil) The Final Sleep' unfortunately drops the ball somewhat, closing the LP with a instrumental of synthesized strings that endures for an interminable eleven minutes.
An assured reconfiguration of their sound with pleasing hint that the band are now hitting their stride, hopefully the gap between the present disc and the follow up will be nothing like as long.