The Black Delta Movement: Preservation (Clubbed Thumb Records)
Humberside garage/psych quintet release excellent debut set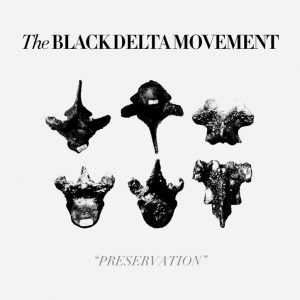 Hailing from Hull (which spawned Bowie's matchless rock n' roll backing troupe The Spiders From Mars lest we forget) psych/garage quintet
The Black Delta Movement
have made their bones via a score of EPs over the past three years building up to sterling debut LP
Preservation
.
Wisely aiming for immediacy the ten track set races past, imbued with the energy all debut albums should have, the production by in-house desk jockey for Fuzz Club Records Mike Burnham allowing the instruments space to breathe in the mix. Recorded at vintage analogue recording hub Love Buzz Studios, Preservation utilises The Stones' set-up of panning the dual guitar line-up to a speaker each and positioning the drums at the rear to push everything forwards to create the feeling of being sat in the room with the group.
A combination of blackened riffs, churning drumbeats and reverb-soaked vocals in keeping with the group's influences,
BRMC
, psych pioneers The Thirteenth Floor Elevators and fellow Texans
The Black Angels
, the tunes, particularly the vocal melodies are at the heart of the 'Movement's songs. Rome and Hunting Ground are both solid psych inflected garage rock dust-ups while the distorted vox of Deceit and the raga-esque Hot Coals come across as toughened up modern takes on the landmark
Nuggets
compilations.
The darkest track present, the uneasy Let the Rain Come juxtaposes a tense, string-scraping figure with a bassline that bends in and out of tune while No End, led by a unison drum and guitar riff showcases the group's ability to locate a killer groove. Moving past King Mosquito which wears thin on repeated listens, For You where the band ease the tempo is an excellent sashay piloted by a recurring guitar motif that comes across as a cover of a Sixties girl group.
Leaving the longest cut til last, superb eight-minute opus Butterfly provides a suitably colossal finale, its closing stretch heading into similar atmospheric territory staked out by US psych/blues outfit
All Them Witches
. A solid success first time out,
Preservation
should see this particular Movement deservedly recruit more followers.
8/10
The Black Delta Movement Links