The Asteroid #4 – The Asteroid #4 (Bad Vibrations Records)
Spectacular new LP from the Bay Area psychedelic quintet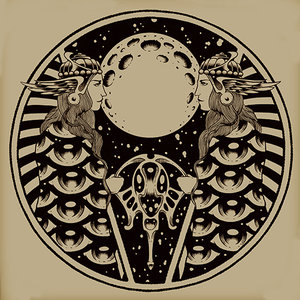 Long standing adherents of the psychedelic cause,
The Asteroid #4
have been doggedly journeying to the far reaches of the galaxy since 1998, steadily accruing a cult audience and a long association with touring partners The Brian Jonestown Massacre.
Named in tribute to ground-breaking psych minimalists Spaceman 3, the group mine more of a classic take on far-out sounds, digging deep into the history of psychedelia, steeped in classic Americana, with a deft measure of English pastoral folk and Kosmische rhythms thrown into the mix.
With eight albums and a score of assorted EPs and singles under their belt since their 1998 inception, a new label in the shape of Bad Vibrations Records and the eponymous title of the present collection hints at a definitive statement.
Commencing with 'The River' the countrified sway calls to mind fellow Bay Area natives The Grateful Dead, founded on acoustics, lap steel and mantra-like vocals about 'The River of life'. Succeeding cut lead-off single 'Rukma Vimana', named after a Sanskrit text about ancient flying machines, the Messenger of the Gods tribute fires into life on a Hawkwind worthy riff, sounding like a missing track from the astral voyagers
Space Ritual
live LP. An impressive one-two punch, the songs brilliantly distill the two sides of the band in just over 12 minutes, reflective
Revolver
-era Beatles inspired acoustic driven tracks which collide with blazing space rock workouts.
'Ghosts of Dos Erres' revolving around a simple guitar figure and submerged vocal is pleasant but slightly inconsequential, more than compensated for by the gorgeous swoon of rustic waltz 'The Windmill of the Autumn Sky'. 'Back of Your Mind' meanwhile proves the quintet can rock out impressively, led by a guttural bassline and spooky Woodstock-gone-bad flute embellishment while the beatific 'Ropeless Free Climber', represents the zenith of the set, a bedrock of acoustics and tambourines overlaid with massed harmonies, hinging on a reflective chorus, '
Suddenly it occurs to me/I'll never, ever be the same/But it's alright/I don't wanna be
'.
Two tracks led almost entirely by sitars, spoken word piece 'Mount Meru' and short instrumental 'Ode to Cosmo', (possibly a tribute to CCR sticksman Doug 'Cosmo' Clifford?) showcase the band's skill at George Harrison/Ravi Shankar inspired pieces. Elsewhere, taking aim at the military-industrial complex 'Revolution Prevail' kicks up a fierce storm, rushing along on a relentless motorik beat and palpable air of menace, the lyrics almost acting as a contemporary telling of Creedence Clearwater Revival's Vietnam War opposing classic 'Fortunate Son'. In complete contrast, succeeding cut acoustic incantation 'Yuba' beautifully draws the set to a close in bucolic bliss.
With fellow travellers the BJM going through something of a career epoch at present,
The Asteroid #4
should hopefully see their contemporaries pull vastly more people into their orbit. Interstellar in the true sense of the word.