Taraf De Haidouks and Kocani Orkestar - Band Of Gypsies II (Crammed Discs)
Mainstream Western culture has a schizophrenic attitude to gypsy culture – it is fascinated by its "otherness", yet marginalises and discriminates against it. Yet, go to most festivals over the last few years, and the gypsy bands such as Gogol Bordello attract some of the wildest, most mad-for-it crowds.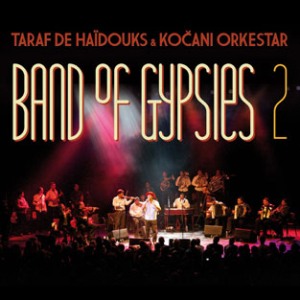 Musos love the musicianship and deep roots of the music, while those of a punkier disposition love its rebel spirit. The whole "fuck you, we're going to party, woo, drink and dance, no matter what you say, even if you think we're scum" attitude has a timeless appeal, hence its popularity with fans of the
Pogues
,
Joe Strummer
et al.
Band of Gypsies 2
is the first time these two gypsy supergoups have collaborated over a whole album. Taraf de Haidouks (TDH) – aka the "band of honourable brigands" - hail from a small Romanian village, and decided to celebrate their 20th anniversary by creating a 26-piece Balkan big band – their 13-member band combined with Macedonia's top brass band Kokani Orkestar (KO).
This is a meeting of two different elements of the gypsy nation. Taraf de Haidouks are Christians who speak Romanian, a Romance language, and play a wild, swirling music with violins and accordions. Kokani Orkestar are Muslims who speak Macedonian – a Slavic language – and a Turkish dialect. However, thanks to a combination of musical director / arranger Stephane Karo, who has been working with both bands since the early days; various Rm dialects, and the universal language of music, they were able to communicate with each other… and with us.
The result is a vibrant, sometimes frenetic mix of styles, with influences from all over the place. Drunken Balkan wedding dances, Jewish klezmer music, Moorish laments, Moroccan trance-outs and uber-sad laments all get a look in. Sometimes it seems like there are a lot more than two bands playing – but the clear arrangements prevent it sounding like a dog's dinner.
There is some very nice jazzy horn soloing, and it's beautifully played and arranged; but most people will probably prefer the sections where the pace somehow picks up from frantic to demented, and the band plays as one at several hundred miles an hour. As entertaining a record as this is, this is surely a band that has to be witnessed live – with a dancefloor big enough to dance like a loon, and a bar within easy reach.
They get knocked down, but they get up again – as a snapshot of a vital, indomitable culture, this set of timeless, deeply emotional yet highly skilled music is just the ticket.
Taraf De Haidouks and Kocani Orkestar Links