Tape Deck Mountain: True Deceiver (Self Released)
US grunge / shoegaze stalwarts serve up strong new set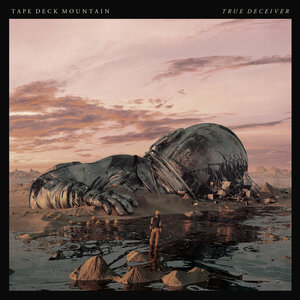 Hailing a format that rather wonderfully has come back into vogue (the eight-track cartridge revival is presumably due in 2023),
Tape Deck Mountain
have been active since 2009. The project of Nashville based singer/guitarist Travis Trevisan,
True Deceiver
is the group's first LP in a four-person two guitar, bass, drums formation.
Nominally tagged as a shoegaze outfit, the current LP features a fair portion of FX pedal wrangling, but also harks back to titans of the 1990s alt. rock, namely Soundgarden and Smashing Pumpkins. Opening cut
Screen Savior
, hinging on its chorus of "
In a screen-filled sanctuary
" flags up one of the album's principal lyrical themes, the never-ending ubiquity of the net and mobile phones and our attendant love-hate reliance on it.
Nomo, short for the OED recognised syndrome of "No Mobile", piles colossal reverb on to Trevisan's lead vocal, its patina of guitar textures one of the most straightforwardly shoegazing themed songs here. Similarly, the spiralling downwards pull of Hush makes full use of dreamlike guitar textures, while also spotlighting bassist Sully Kincaid.
Apocrypha defined as non-canonical Scripture, bears traces of Sonic Youth's atmospheric, slightly spooked mid 1980s era, the unexpected shift in chord patterns midway through showcasing a sharp songwriting instinct. Brighter moments Ceremony and the expansive title track pair iridescent guitar arpeggios with woozy, lingering vocal melodies.
The rolling and tumbling groove of Instruments of Keeping Time allows space for tubthumper Andy Gregg to make his presence felt, the sections where the volume is cranked recalling ultra-heavy Washington State rockers Earth. In the minus column the closing section of Pyramid becomes a drag and occasionally stronger editing would be welcome. A decade in the game,
True Deceiver
deserves to see these alt. rock stalwarts reach a wider audience.
4/5