Surrija: Surrija (Self Released)
Drawing inspiration from electronica and Nineties R&B, the classically trained California based singer issues a gem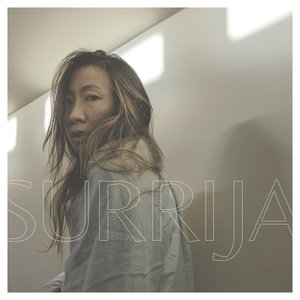 Personal freedom has a particularly piqued interest currently, so it feels apt to be spreading the
Surrija
love, right here, right now.
As the first solo record released by Jane Lui under the name Surrija (her first three albums were released under her given name), it enmeshes and picks apart musical styles in a dance that is as opulent as it is sparse. Produced by Lui as well as Sophocles Papavasilopoulos, and Maxwell Gualtieri, it plays with lightness and weight, lack and abundance. As this tantric performance plays out—all pent-up energy and cathartic release—you cant help but meditate on their boundaries.
It is no mean feat to create such avid complexity, and this is all down to Lui's epic care and skill. Added to this having producers who are on the same wavelength. There can be no doubt that she is a classically trained musician with a deep interest in a range of genres. But she has as well keen eye for art, and the stories laying behind the fixed image.
Focusing on the female lovers of Picasso, the record was informed by their talents. Talents denied to these women as he took inspiration from them. Track titles such as Gilot and Dora pay direct homage to these ladies. As Lui herself notes: "This was a window into breaking down patriarchy, as these women gave me agency to work through my own trauma. They are love letters to the women."
Both personal experience and outside inspiration for the record have created an emancipating bouquet that complements and contrasts in a singularly enticing way. Lui's atmospheric visions create a landscape; façades of brutalism, alive with glitches, reverb and collected sounds. Throwing open the doors, however, you glimpse behind the architecture to reveal plush and luxurious interiors, clean lines and bright opulent splashes of colour.
Opener, Nothing Love, beautifully encapsulates this with an unmistakable Nineties R&B/indie-femme (yeah, that's a phrase) vibe. The atmospheric build-up beautifully sets-up for a choral release. A silence drops before the staccato beat rolls through, alive with glitches and punchy electronic hooks. Elements of some kind of jazz-flute peek through the façade, making for a truly rich experience!
Lui's breathy vocals with tracks like Sylvette and Dora (based on muse, French artist Dora Maar) are imbued with this dreamy weightless contrast. Low sung tones in words "
just an impression
" encapsulating the heartbreak of not being recognized as your own person. The vocals act as the track's backbone, whilst seductive bass and staccato rhythms flow around it like water. This is truly a shape-shifting charmer.
Yet it is not all complex meshing, Almost There and She Learned Not To Be Scared are beautiful in their singularity. Stripped back with piano keys and velvety vocals, to say they are a 'sorbet' would be insulting, and as close to an analogy as you're going to get here. But, by fuck are they wonderful.
Listening to the album calls to mind the tenderest moments within Apparat and Ellen Allien's back catalogue, combined with the rich playfulness of Boom Bip and Amon Tobin. At times brittle and sparse, the record skillfully draws upon a rich softness with intense precision. Lui's tireless attention to detail can be seen through every facet, and yet there is a free-flowing luminosity. It plays with freedom and restraint, nestling back into ideas of lightness and weight.
Surrija perfectly encapsulates all that can be said in her own admittance: "I had to shed my clinical approach and befriend my slightly feral tendencies". Keep doing it my love, you are fabulous!
8/10