SUEP: Shop (Memorials of Distinction)
Promising debut mini LP by off-beam alt pop outfit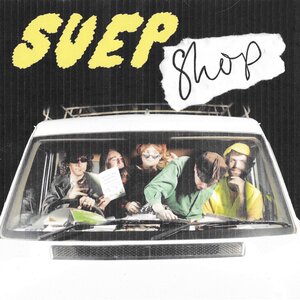 Fronted by moonlighting Porridge Radio member Georgie Stott and co-lead singer Josh Harvey, London via Brighton indie pop consortium
SUEP
open up
Shop
for business, a mini LP that pulls together their releases so far.
While the quintet's approach might be deliberately unshowy, all expenses spared keyboards, cheap drum machines, and warm analogue sounding vocals, the melodicism of the songs burns through strongly. The set bears the homespun influence of
McCartney II
, where a decade after accidentally inventing lo-fi recording with his eponymous solo debut Macca accidentally became the progenitor of became known as bedroom pop.
The ba-ba-ba vocal hook of Domesticated Dream lodges itself in the memory, the deftly played highlife guitar lines on this and the angular bursts on Friend of Mine underlining the talent involved here. In contrast, the New Wave funk of the all too brief Onions sees the group head out for the night, conjuring up images of Public Image Ltd cutting loose at Danceteria.
Josh Harvey's baritone vocals come to the fore on synth pop canter Misery, while the fatalistic Just A Job is gentle shrugged shoulders admission of just having to get on with it. The seedy bedsit electro meets gothic melancholy of In Good Health meanwhile invokes Soft Cell fronted by Siouxsie Sioux
A release which showcases a fair bit of promise, its hooks insinuating their way into the memory gradually, this particular shop is a retailer worth checking out.
3/5