Steve Gunn – Way Out Weather (Paradise of Bachelors)
NYC acoustic guitar virtuoso delivers a dazzling slow-burning set of widescreen Americana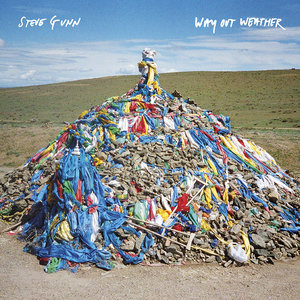 His seventh solo LP in as many years discounting collaboration projects,
Way Out Weather
, the follow up to last year's acclaimed
Time Off
has the feel of being
Steve Gunn
's definitive statement.
The second full-band set released by the Pennsylvania via NYC musician, whilst roughly occupying the same sonic territory as Kurt Vile (his former boss in The Violators) and The War On Drugs' hazy alt rock, Gunn's playing bears traces of groundbreaking minimalist composer La Monte Young and the ever present drones found in Indian music.
A virtuoso guitar talent, the tracks revolve around Gunn's ever-present steel-strung acoustic, weaving hypnotic repeated motifs or dexterous strumming patterns, his
Astral Weeks
era Van Morrison-esque vocals making the most of the spacious arrangements.
Lyrically honing in on oblique commentaries on climate change, split between four tracks per side each clocking in around the five minute mark, the title cut commences proceedings, a slow moving tumbleweed of lap steel, light-limbed drumming and tumbling arpeggios.
Swaggering along with the same louche air as the acoustic driven tracks from the Stones' country-blues-gospel gumbo
Exile On Main St
'Milly's Garden' is a clear standout, while 'Shadow Bros', revolving around strummed banjo, harp and massed harmonies calls Sufjan Stevens' mid 2000s touchstones
…Michigan
and
…Illinoise
albums to mind.
Anchored by a Motown drumbeat 'Drifter' possibly represents the highpoint of the set, the most upbeat item here and the most reliant on the rhythm section, while 'Atmosphere' more than matches its title, a drifting cloud of arpeggios, weeping lap steel and treated vocals. The biggest departure on the LP, is saved until last as the propulsive 'Tommy's Congo' is steeped in the spirit of New Orleans' Creole like a latter day reworking of a Dr. John track.
With the widescreen take on Americana of his peers in such high demand at present, Gunn more than deserves to be placed alongside them, with the evocative slow-burning majesty of
Way Out Weather
hopefully providing his breakout set.