SPILT: No Ball Games (Jacaranda Records)
Incredible, highly accomplished debut album from Mersey Delta alt. rock / sludge pop outfit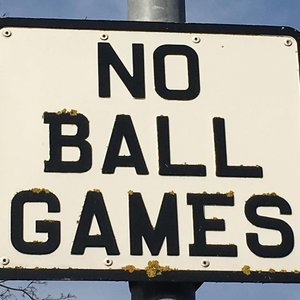 Named after the signs frequently spotted around the group's hometown, orbiting Liverpool satellite Runcorn
No Ball Games
is the debut LP by teenage alt. rock mavens
SPILT
.
The successor to a run of superlative singles and summer's excellent
Sickly Fit
EP, the main course builds on the appetizers in hugely impressive fashion. Creating the effect of a rapid-fire YouTube channel curated by the trio,
No Ball Games
is far more than a collection of songs thrown together that clocks in at forty minutes. Produced by Jonathan Tringham alongside the group, with its interlinking snatches of conversations, digitized noise, dialogue samples and thematic links, the disc is an invitation into SPILT's private world.
Taking Nirvana, Pink Floyd and Motown as starting points, While the band have the stock power trio line up, the resultant sound is far from straightforward, incorporating elements of hip-hop, electronica and industrial. Led by singer/guitarist Mo Molyneux, a vocalist able to move from lung busting intensity to anthemic choruses in the space of one song, four-stringer Ronnie Ayers alternates between melodic foundation lines and bass-from-Hades motifs while sticksman Josh Cunningham powers everything with thunderous elan.
Opening with an industrial hum that leads into a prowling guitar riff and tom tom drum pattern, the bracing rush of Pockit begins proceedings in bracing fashion. A lyricist with a real ear for a hook, "
In God we trust / enough to self-combust
" Molyneux crafts lyrical vignettes that lodge in the memory. A skillful bit of sequencing continues the theme of filthy lucre on sludge pop gem
Funny Money
, "
the highest place to get your face / Is on the note that controls the human race
", anchored by Jean-Jacques Burnel worthy bass.
Redolent of a hip-hop album with its between track skits, (Woke.Up) takes the sound of the local rag n' bone man shouting for scrap iron with a response of "Shut the fuck up!" dubbed over it. (Bit.Head) meanwhile features a covertly recorded conversation where someone tries to sell the band a knocked off Rolex, "
Course it's the real deal… look at that craftsmanship!
", that concludes with the failed salesman's shrugged admission, "
I might as well sell drugs, it's easier!
" The synth led (Luminous. Food) meanwhile sounds like an excerpt from a John Carpenter film score where the lead character attempts to outrun a pursuer.
When the mood takes them the trio possess the punching speed to outdo even the most committed gritted-teeth hardcore punk bands, while always keeping the tunes within earshot. Redolent of their live sound,
Someone N No-One
demonstrates just how off-kilter they can get, a battering ram of a track with an unhinged chorus. Similarly, one of SPILT's best moments to date
Order
is a blazing takedown of the monotony of modern life replete with an earworm grunge rock chorus ("
And I feel so tired / I've stepped in line / And every day feels like yesterday
") that swerves into a slow-mo bridge and a furious speed metal section.
Showcasing their ability to upend the standard guitar band formula,
Still Crazy
alternating between calm flange FX pedal led verses and raging choruses is sucked into a cartoon-like acid-frazzled alternative reality and back out again. Entirely fitting during the current General Election cycle, 1984 borrows the Ingsoc slogans "War is Peace. Freedom is Slavery. Ignorance is Strength" and links them to the current age, themes that have never faded since they first appeared in 1949. Yes meanwhile, constructed around a Liam Howlett-worthy riff takes the form of a series of questions, "
Are you busy mate? / Was work OK?
" each met with the same resigned affirmation each time.
In complete contrast, dark acoustic gem Canal Boat Rodeo is a model of restraint, the calm before the deluge, the outdoor recording overlaid with buzzing amp noises and low-level feedback. Cynical, led by a serpentine guitar line that diverts into hip-hop inspired choruses sounds like how guitar groups in the present age should, drawing from whatever genre that inspires them.
Concluding back in their manor, closing track, the Endless Nameless-esque Wa7, taking its title from their hometown's postcode is an atmospheric, vaguely sinister instrumental that evokes driving the concrete ring road at 2am. A superbly accomplished opening statement, calling this 'promising' is to damn it with extremely faint praise. And there's vastly more where this came from to boot.
4/5