Songs For Walter: An Endless Summer Daze (Tallbird Records)
Mancunian folk / chamber pop project return with a worthy follow up to their acclaimed debut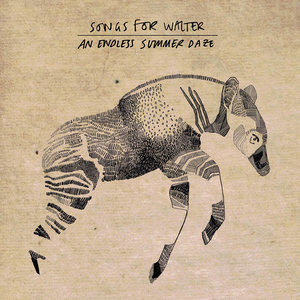 The moniker of singer-songwriter Laurie Hulme,
Songs For Walter
grew out of a project where the Manchester based artist wrote tracks covering the life story of his Granddad, the titular Walter. The outfit's eponymous 2016 debut album was issued to favourable notices, with new LP
An Endless Summer Daze
moving from SFW's initial folk music leanings towards chamber pop.
Redolent of Americana doyens Mercury Rev and especially one-man orchestra Sufjan Stevens, the LP strides briskly through ten tracks in twenty-nine minutes, a mini-suite of baroque pop confections. Squaring Circles which sounds like an overlooked Merseybeat hit highlights Hulme's way with an ear-catching lyric, (opening line,
"Oh Jacqueline / When's it gonna stop? / The bastard's got you chained and breaking rocks"
), while Traitors underlines the 'Rev comparisons as Hulme sounds extremely close to Jonathan Donohue's keening vocals.
Calling
The Piper At the Gates of Dawn
era Pink Floyd and Syd Barrett's solo work to mind, the slightly out of focus timing and music box tinkling of the title track showcase how the darker tracks here such as A New Beginning which evokes Joe Meek in its shadowy reverb, pacing drumbeat and Stylophone melody are among the best. An excellent arranger, the prettiness of Hulme's guitar arpeggios are offset by the backdrops, with the brass arrangement on I Don't Know Who You Are injecting a note of sourness into the mix. The sole time on the album where the singer's Northern accent truly surfaces, if the lyrics aren't the singer taking the listener into his confidence, it stands up as a brilliantly observed piece of fiction.
Switching focus The Battle Of Bexley Square shines a light on lesser-known social history, covering the 1931 protest staged by unemployed workers in Salford who were beaten up by the authorities. Elsewhere Your Shoes is close to shoegazing, as Hulme's voice seems to emerge from a pea-soup thick fog amidst the massively reverbed guitars, the woozy trumpet solo at the close reminiscent of The Blue Nile. A sterling second edition of Hulme's melodic and lyrical skill, if SFW continue progressing at this rate, the favourable comparisons to Sufjan Stevens will be completely borne out.
7/10