Soft Metals - Lenses (Captured Tracks)
Los Angeles electro duo bring thought to the dance floor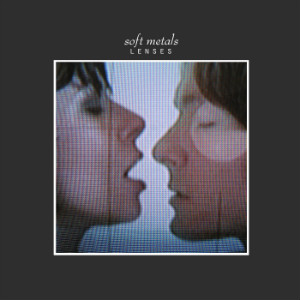 Despite the huge advances in technology in recent years, most modern electronic music seems happiest looking backwards. For their second album - out last month - LA-based lovers
Ian Hicks
(keys/programming) and
Patricia Hall
(vocals) use a fairly narrow palette of 80s sounds to create an intriguing mash-up of minimal electro-pop and acid house.
Lenses
is full of paradoxes. It uses some pretty cold tones but most of the lyrics are dreamy and loved-up: the typical scenario is Patricia lost in a dance floor reverie about the man who makes her tick ("'I'm on a cloud, I don't want to leave it...") However, it's more moody than hedonistic - existentialist disco, to use a phrase once flung at
New Order
.
Formerly based in the hipster paradise of Portland, Orgeon, the couple's relocation to LA has seen them working with
Optimo
's
J.D. Twitch
. He encouraged them to add dancier textures to their sound, and as a result several tunes are decorated with some very groovy acid house squiggles and beats. Elsewhere, a moody cinematic vibe predominates, with mournful vocals and atmospheric keyboard washes.
The opening title track sets the tone nicely. A billowing synth intro, slightly queasy around the edges, mates with everyone's favourite 'malfunctioning keyboard' sound to create crisp and groovy acid house pop. Patricia's cool vocals create an interesting contrast with the devotional lyrics.
Usually on Lenses, less is more. 'When I Look Into Your Eyes' consists of a couple of clicks, whirrs, key washes... and that's it. Such spacious arrangements, and slow tempos, are made for thinking as much as dancing. Elsewhere vocals are dispensed with altogether: 'Hourglass' is film music for
OMD
fans while the overlong closer 'Interobserver', though pleasant enough, is the only number that outstays its welcome.
'In the Air', with its synth swirls, pattering beats and endlessly circling keyboards, is a rare excursion into dirtier, trancier, druggier territory - and it's great. But most of the time,
Soft Metals
are content to hold something back... and it works a treat.
Like the
Ramones
, or
Robert Mitchum
, Soft Metals don't do very much. But like them, what they do, they do very well.