Slow Down Molasses: Minor Deaths (Noyes Records)
Canadian noise rock outfit return with fifth LP, their first since 2016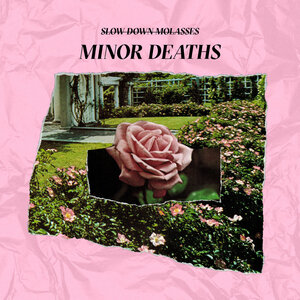 Half a decade since their previous LP
100% Sunshine
was issued, although it might as well be half century given what the world has been through, Canadian guitar manglers
Slow Down Molasses
resurface with their fifth album.
Despite their band name being an exhortation to reduce tempo or relax, the present group really don't do either. One of the hallmarks of
Minor Deaths
and SDMs output in general is of unresolved tension and pervasive angst. Split roughly between alt. rock blowouts and more off-kilter instrumental pieces, bracing lead single Son of Titanic crams all of the former category into a raucous sixty-two second banger.
In the latter category, instrumental surge Please Stop Paying Such Close Attention, a title that evokes images of slippery politicians becoming frustrated with an inquisitive press and public, harnesses repeated Mogwai / GYBE style arpeggios with an off-kilter drum pattern. Harking back to a band who did much to set the parameters of noise rock, Revisionists bears the hallmarks of
Evol
/
Sister
-era Sonic Youth, powering into a tense midsection that gives the impression of something to be expanded on live.
The summit of the LP arrives with Some Fine Action, its descending riffs and strong vocal melody giving way to patinas of interweaving guitar work that shows the strength of SDMs axe wielding. Taking a pop song structure as a starting point meanwhile Street Haunting succeeds in soldering a Kim Deal bassline and Public Image Ltd style guitar scrawls onto the template.
The longest cut here, prosaically monikered ten minute epic Hot Furnaces Are Hot! (something which sounds the title of an old safety at work VHS) stretches out into a instrumental piece that disappears into a howling vortex of feedback backed by John Cale-style violin playing.
While the set would've benefitted from greater focus and tighter editing in places, SDMs fifteen year mission continues apace.
3/5