Sky Larkin – Kaleide (Wichita)
The much anticipated second album from Leeds trio Sky Larkin fizzes with energy and the commanding presence of singer Katie Harkin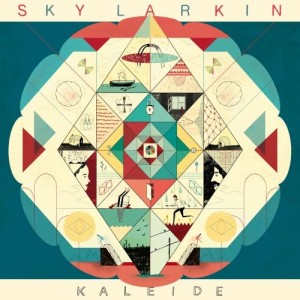 A trio hailing from Leeds, Sky Larkin return with their second album,
Kaleide
, where they aim to build on the noise generated by their support slots for some prestigious label mates, Canada's most tantalising indie rock troupe, Broken Social Scene. Anyone expecting luscious, multi-layered pop will probably be left disappointed, and in truth they are perhaps closer to the occasionally spiky guitar-pop of Metric.
It's a comparison which is hammered home by singer Katie Harkin's feisty and commanding presence, which is perhaps the band's greatest strength. Whether on the propulsive title track or the slinkier 'Anjelica Huston', her voice dominates although it doesn't detract from the clanging guitars and subtle keys which power these twelve songs, alongside a forceful rhythm section.
If some of the ideas here are not quite fully-formed, they do at least fizz with energy – 'Guitars and Antarctica', despite its fairly underwhelming title, shows that they have another gear beyond sprightly pop, although its mild art-rock could do with refining.
Album closer 'Smarts' is winningly jerky and a sign of fresh impetus, but overall
Kaleide
doesn't seem to show the ambition necessary for the three-piece to move beyond their comfort zone, although they are slowly revealing a knack for hooks and songwriting chops which suggest future promise.