SixToes: The Morning After (ToeMusic)
Talented composers and arrangers of music, SixToes show why their production work has led to members of Depeche Mode taking a shine to them on an atmospherically bleak album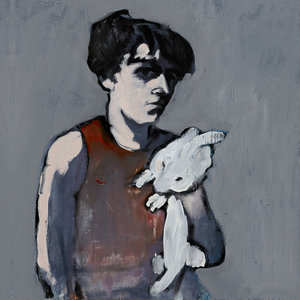 Throughout
The Morning After
, wonderfully moody, moaning, deeply rasping cellos scrape, whine and soar while violins and brightly hopping mandolins moderate the tone above a completely bleak outset that
SixToes
set the scene with in 'Intro'. The overall effect is a morose Villagers or Bright Eyes and, with the voice of lead singer David Greenep, a taste of Beirut.
The band themselves describe the album as "the processing, lamentation, reconciling and celebration of many years of disparate relationships and experiences living in London. The boy on the record's cover with the white rabbit represents to me the edge of adolescence and the tipping point." If any of that is achieved in the album – and some of it is – this was always destined to land somewhere a bit dour. And while they're doing that tell an emotionally or paint a graphically psychological picture.
SixToes are an intelligent band. And if they haven't been able to convey that through intricate arrangements, then they make sure with what appears to be a nod towards William Burroughs's landmark beatnik novel
The Naked Lunch
in 'Nobody Inn.' The reference of a mugwump in the opening line sets the scene by bringing Naked Lunch's atmosphere with it. The song is a tale of loneliness and problematic situations sat in a bar. It could be about the dissident US Republican mugwumps, but the bleak picture painted in 'Nobody Inn' and Naked Lunch fit tightly together. And the reference helps the song's atmosphere of dank, dark smoky bars with a complete loneliness and helplessness.
Despite all these references and talents for instrumentation, SixToes don't fully define their sound until 'Zen Box.' Throughout
The Morning After
it feels as if SixToes may be trying to occupy the same space as Zach Condon's Beirut. But in 'Zen Box' David Greenep's vocals still hum but also soar and squeal. It's a bit more expansive and in the composition and arrangement they have allowed themselves more freedom to express.
Perhaps their most accomplished instrumentation is saved for the final moments of 'Low Guns' – in which the vocals of Dave Gahan from Depeche Mode make an appearance. The unkempt falling and cascading violins drag their way to a crescendo making a sound similar to something heard on a Bright Eyes album. It is a great example of SixToes talent for arrangements.
It's been six years and an expansion to six members since SixToes released their debut,
Trick of the Night
, in 2008, which is a nice number given their name. Like six toes, all on one slightly troubled foot making music that is as well arranged, well referenced, well respected and drenched in bleak tones. SixToes are at their best when given freedom to express in a solitary moment or empathise with a monumentally dour, sour moment in life.