Sheep, Dog and Wolf: Two-Minds (Aphrodite Music)
Bedroom polymath Daniel McBride has journeyed through a personal hell - and come out clutching treasure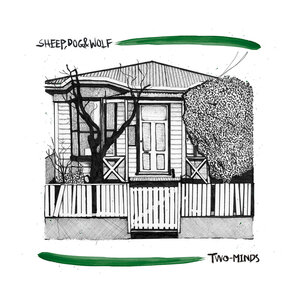 Illness, physical assault, recurring anxiety and depression… Kiwi alt. pop auteur Daniel McBride, aka
Sheep, Dog & Wolf
, has gone through some awful shit since his 2013 debut album
Egospect
garnered much critical buzz. He has used the long stretches of enforced isolation to craft something truly beautiful.
Every single note of his follow-up collection
Two-Minds
has been sung, played, produced and arranged by the man himself. And it is released into a world that now has an inkling of what it feels like to be cooped up against your will, with your thoughts running haywire. While it was born out of immense pain and suffering, much of the music, at least, seems to point towards recovery and a happier place.
Like many of the best music makers nowadays, McBride escapes simple genre categorisations, being equal parts confessional singer-songwriter, bedroom auteur, and jazz- and post-classical-influenced avant-gardist. But fret not, people - this is not difficult or scary music, but very soulful, surprisingly accessible and often extremely lovely.
Opener Months is like a taster for the album, a spacious piece where piano and woodwind set the scene for complex, multi-tracked vocals which sound like a chorus of Anonhis (definitely a compliment: if you haven't already, check out Antony and the Johnsons'
I Am A Bird Now
and you'll see what I mean). Much of the singing on the album is in the upper registers, though not uncomfortably so. Lines like "
I haven't been me for a year
" and "
Months out of time / I forget I'm alive
" establish the embattled lyrical landscape.
This is followed by the album's two calling cards. The shapeshifting, magical title track is cognitive dissonance in musical form - an expression of the extreme anxiety that was tearing McBride to pieces, while weirdly protecting him from harm, or so he felt. Complex choral vocal parts dart all over the place, like a manic episode with various competing internal voices. Musically, there is definitely some late Radiohead in here, as well as the sort of serial and post-classical minimalism of Terry Riley, Michael Nyman et al. Percussive finger-clicks and snaking (double?) bass add to the sense of propulsion.
Cyclical is complex yet accessible chamber pop, the painstakingly stacked vocals acting as a self-critical Greek chorus. The heartbreaking Could've ("
You could've been a human being / instead you're playing dead
") is less densely arranged, its spectral guitar atmospherics bringing it nearer to conventional indie-world. Fine is more avant-garde, with its ominous buzzing and dissonance, before limpid piano edges it towards calmer shores. Deep Crescents, meanwhile, is a musical panic attack in several parts, less hooky and more proggy than the album's two other long pieces Two-Minds and Cyclical.
But the darkest hour comes right before the dawn. The folk-tinged Periphescence finds beauty in the physical marks of McBride's self-isolation ("
Slim dark circles decorate your eyes
"), while closing track Feelings acknowledges the re-emergence of a wider range of emotions, and a re-engagement with the outside world.
Like Robert Wyatt's 1974 masterpiece
Rock Bottom
,
Two-Minds
is both a testament to the extremes some humans are forced to go through, and a tribute to their extraordinary resilience. Wordsworth described his poetry as emotion recollected in tranquillity. This is misery alchemised into beauty.
4/5