She Keeps Bees – Eight Houses (BB Island)
One of the most seductive female rock voices going adds silky, slow musing to whiskey, guts, ripped jeans and sweat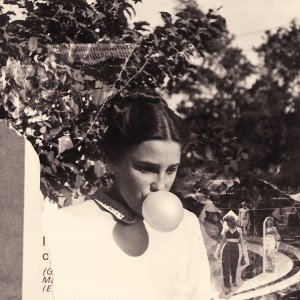 On their third full length album, and the first with a producer from outside of the two of them,
She Keeps Bees
have rounded off their sound. No longer just the gutsy garage rock of their first offerings, or the ripped jeans leaning back and putting your arm through a Stratocaster vibe,
Eight Houses
is an wider expansion of She Keeps Bees' previously intimate talents.
With
Eight Houses
the band has added a slow control to their furious, sweat and whiskey driven sound. For this record moments like 'Raven' and 'Both Sides' which gouge, warble and grind aggressively as on previous releases
Minisink Hotel, Dig On and Nests
are complemented by chilled efforts. A range which drummer Andy LaPlant believes is the effect of an outside producer: "There was definitely a batch of more aggressive songs that got cut from the new record…Having a producer was nice in that respect; if things were starting to sound too similar and we didn't hear it, Nicolas (the producer for
Eight Houses
) wasn't shy about letting us know. We wanted to step outside our comfort zone stylistically, which really gives Jess' songwriting a chance to shine'.
For quite some time She Keeps Bees has been a best kept secret of the indie world. As a duo Jessica Larrabee (vocals and guitar) and Andy LaPlant (drums) carved their way into the hearts of Sharon Van Etten – who appears on single 'Is What It Is' – and many others in indie circles. Amongst the tributes, special praise has been reserved for Larrabee's vocals. It is one of the most seductive things going – and used in these numerous new directions it excels,
Compared to other albums Larrabee shows a different kind of confidence to look outward as well as inward for material. In 'Gimmie,' from previous album Nests, she hollered for sexual gratification and asked a lover to "
Work me like my back ain't got no bone
" – which is a nice insight. Contrast this with 'Greasy Grass' on Eight Houses where there are references to Custer's last stand and taking "
The red road back
."
And it hasn't just been the lyrical exploration for the band. For a duo who barely poked a toe outside of the comfort of guitar and drums on their first EPs and albums, there are trumpets, pianos and synths flying around. But fortunately nobody gets over-excited with the new found toys. Just a slight outline of a brass instrument to highlight the melody on 'Owl' complements much more effectively than jabbing everything, everywhere with brass.
Eight Houses
is a progression, and not a change of direction for She Keeps Bees. A wider range of instruments have been pulled out the bag. Lyrical subjects have expanded. And there's silky, slow musing on both 'Is What It Is' and 'Owl'. But guitars are still twatted with raucous venom. There's still plenty of whiskey, guts, blood, ripped jeans and sweat. And Larrabee's vocal is still smoking and hot.