She Drew The Gun: Memories of the Future (Skeleton Key Records)
Merseyside quartet issue excellent torch song inspired debut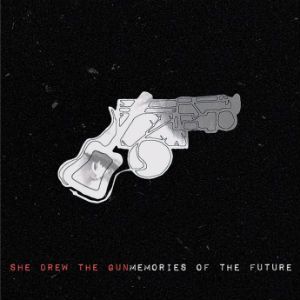 Its title taken from an observation by Billy Pilgrim, the protagonist of Kurt Vonnegut's surreal anti-war novel
Slaughterhouse-Five
(1969) ('Billy, with his memories of the future, knew that the city would be smashed to smithereens')
She Drew the Gun
's debut LP sees the group arrived on disc fully formed.
Initially the solo project of singer-songwriter Louisa Roach, the addition of guitarist Jack Turner, multi-instrumentalist Jenni Kickhefer and drummer Sian Monaghan, sees the trio draw Roach's lyrical, emotive tracks on a larger canvas.
Placing Louisa's beguiling voice at the centre of the proceedings, the cuts derive their power from spare elements of synthesized strings, repeated guitar figures and straightforward drum patterns, never overplaying its hand. Produced by The Coral's James Skelly (whose label Skeleton Key is handling the release), the album wears its influences lightly (Portishead, Radiohead, Nina Simone, PJ Harvey) plaiting smoky jazz cellar atmospheres with the introspection of bedsit indie.
The tip-toeing What Will You Do has the same detached/intimate atmosphere of
Dummy
era Portishead, its Billy Holiday-esque vocal sounding like a transmission picked up from deep space, which alongside the woozy waltz of Sing and If You Could See are brilliantly effective modern day torch songs while the shuffling rhythm of musically bright/lyrically downbeat Chains brings some sunlight to the album.
Bringing some welcome grit to the oyster recent single Poem is a politically charged rush led by Roach's half-sung half spoken vocal while the theremin embellished garage rock cut Pit Pony pays homage to 1950s inspired sci-fi and the soft acoustic patinas of the virtually solo Pebbles and the compellingly dark 3am distress call Be Mine seep into the brain deliciously.
The album's peaks meanwhile, the gorgeous Since You Were Not Mine and the confessional Where I End and You Begin showcase the arrival of a songwriting talent well worth paying close attention to over the coming years.