Shana Falana – Here Comes The Wave (Team Love)
NYC based dream pop duo unveil accomplished second LP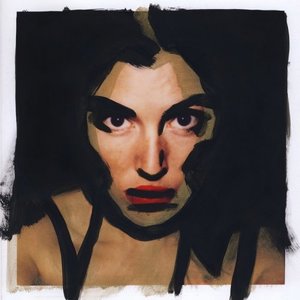 The second full-blown LP by the Brooklyn based duo of
Shana Falana
(vox, guitar) and musical/romantic partner Michael Amari (drums) follows on from last year's
Set Your Lightning Fire Free
, their first for ultra-hip NYC label Team Love.
Scanning several styles ranging from alt pop to industrial,
Here Comes The Wave
largely hones in on shoegaze flavoured with doomy goth elements, the title unwittingly evoking the UKs 'ethereal wave' movement of the late Eighties to early Nineties (The Cure, Cocteau Twins, Curve).
The prettily descending shoegaze-y melody of curtain raising instrumental Shaanadaar Bachche, (Cool Kids in Hindi) is effectively the first half of the English titled version of the song, the second portion anchored by a recurring vocal hook that develops into an excellent earworm. Proof of the group's textural skills Cloudbeats is a beguiling series of gently percolating guitar motifs that blooms in glorious fashion.
Cleverly sequenced to pair songs with a similar feel together, the spiky guitar lines of You Did plaited with a naggingly effective school-playground taunt vocal is succeeded by rejoinder Where R U. Despite the Prince-esque spelling the cut sounds less like The Purple One than the high gothic melodrama of Siouxsie & The Banshees. Venturing further down the same path Lie 2 Me is a grinding, industrial banger founded on a bass groove (or possibly a deep core mining drill) and a nihilistic lyric that sounds as though it is being pumped from under the floorboards of Berlin's Bargahian club which booms along with enough brutal efficiency to give Trent Reznor a splitting headache, the overlong running time of the track slightly spoiling its impact.
In total contrast, Brainy Fox is route one alt. pop that alternates between deadpan verses and a wailing chorus that diverts into vocal harmonies midway through, while Castle Kids is a homage to Falana's hometown of San Francisco that swirls in beautiful psychedelic colours, as befits the city that did much to invent the form, the lightness of touch comparable to an early Verve track. Following immediately after is a cover of early Lou Reed solo cut Ocean, the closing chorus of which supplies the LPs moniker, which is a brilliant synthesis of Jefferson Airplane and 1980s synth pop. An impressively varied set, the duo have successfully ridden the incoming wave of the title to frequently excellent effect.