Sergeant Buzfuz - Go To The Devil And Shake Yourself (Blang)
When Sergeant Buzfuz released their single 'Here Come The Popes Part 3' in 2009, it felt like one of that year's most startling and original singles. Musically sounding like a peculiar collision between Celtic Soul-era Dexy's Midnight Runners, a musical excerpt from a Brechtian play and the kind of South American party band you'd only find on a taco-pack television advert, it was a fantastic piece of oddball folk-pop which lyrically focused on the misdemeanors and felonies of Popes throughout history. The kind of indie release that makes you punch your fist in the air with delight that such strangeness and brilliance is still able to exist, it perhaps unsurprisingly never rose much beyond cultish attention.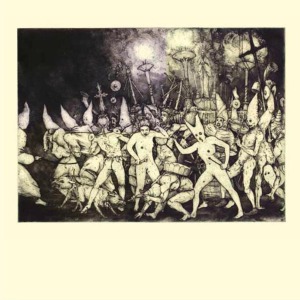 Once the band's frontman Joe Murphy got two more Pope orientated tracks out of the way on 2009's equally wonderful
High Slang
album, he clearly became dangerously obsessed with the topic.
Go To The Devil and Shake Yourself
is a concept album dedicated to crime, corruption and decadence throughout the first fourteen centuries of the Papacy. Murphy's gaze at the Catholic church's history is unflinching, informing us of its links to prostitutes ("Clement VI started taxing prostitutes/ There were so many in Avignon he was rolling in loot") and sexual crime ("Anacletus II liked to rape nuns/ His sister was the mother of some of his sons"). God's representatives on Earth are given a savage critical eye here across fifty minutes, and Murphy's stern, focused vocal delivery makes him sound like a righteous medieval town crier hurling out the headlines for stories which should be common knowledge. At its best, the album takes on the Catholic Church's history with wit, passion and intelligence, and with captivating and sturdy folk songwriting on its side.
However, it would have taken a genius to produce an album with such a narrow focus which works impeccably across nearly an hour of playing time, and sadly
Go To The Devil and Shake Yourself
does unravel in a few places. The opening 'Part 1' track of 'Here Come The Popes' would put off any casual listener who didn't realize that better things lay ahead, meandering as it does for seven barren, unvaried acoustic minutes while Murphy gently unveils some admittedly interesting Papal facts. By the time the maudlin and eerie 'Part 2' and the astonishing, aforementioned bizarreness of 'Part 3' emerge the worth of the project is proven, but the sheer relentless nature of the concept may still leave some listeners feeling somewhat battered. Whilst the revealed corruption of the Church is periodically comical in its dastardliness, there's little light and shade here, and the shooting of the headline historical facts can feel exhaustingly relentless towards the end of Side One.
For whatever flaws the album has in its structure, however, some of the finest tracks here have a determined energy, eccentricity and radical sense of purpose very few records being released at the moment do. Murphy's lyrical ability frequently climbs high towards the intelligent earthiness of Robert Wyatt's work, and perhaps mindful of the restrictions they've placed on themselves, the last part of Side Two of the record also begins to see the band take excursions into post-punk, a move which contributes greatly towards giving the album a late second wind and proves their inventiveness and versatility. 'Palais Des Papes, Deserted' in particular is rich with atmosphere, and sets a filmic tone the rest of the album slowly begins to shift into.
Go To The Devil and Shake Yourself
is a better LP broken down and swallowed in chunks rather than listened to whole. However, if this doesn't fly off the shelves – and it's hard to think of any reasons why a folk-influenced concept album about Popes would, whatever the quality of the contents – it is almost certainly destined to become a future cult "lost" album, the kind of finely-honed, intelligent curio picked to pieces by music journalists and bloggers who wonder about the people behind such a unique piece of work. It bears no relation to current musical trends, and for that reason alone it's worth persevering with. It will be a long time before you hear the like again.