September Girls - Cursing the Sea (Fortuna Pop!)
Impressive debut LP from Dublin quintet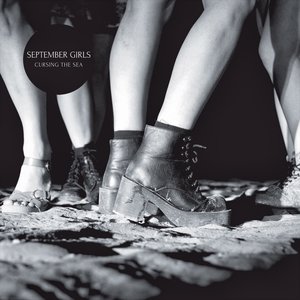 Named after The Bangles' track (in turn a cover of the Big Star classic), Dublin quintet
September Girls
offer up a far darker strain of alt. rock than the sun-kissed Californian sounds of Susannah Hoffs and Co on debut LP
Cursing the Sea
.
A collection of razor sharp missives inspired by the leading lights of 1980s indie canon; Mary Chain, The Cure, MBV along with hints of the Velvet Underground, the five-piece who count four songwriters in their ranks easily sidestep the trap of some garage/indie acts of endlessly repeating variations on a theme.
Swathed in reverb and boasting a drum sound that sounds as though they were recorded in an disused warehouse, despite the heavy application of reverb onto well, pretty much everything, the songwriting breaks through the fug of sinister trebly guitar lines, Hammond organ keys and Mo Tucker beats, the distant, luxuriant harmonies another texture amidst the post-punk surges.
Diving into the descending riff of the opening title cut and the succeeding 'Another Love Song', the album's dozen tracks are all permeated with a shadowy atmosphere, the album title a reflection on distance and feeling adrift.
Reaching its peak with a dazzling three song run commencing with last year's superlative 45 'Heartbeats', the insistent chorus 'Don't call me baby/I'm not yours' breaks through the instrumental blizzard, the propulsive rhythm section turning the song into a long-lost Phil Spector girl group gem shot through with seething malevolence.
'Green Eyed' treads a similar path, a tale of relationship claustrophobia underpinned by a metronomic guitar riff and call-and-response vocals that insinuates its way into the memory deliciously.
Elsewhere 'Ships', the track that initially served notice of the group barbed wire pop smarts wrings the maximum amount out of the spare base elements of rumbling tom-toms and ominous bassline, the lyrics delivered with a wonderfully deadpan air.
While Side Two sees proceedings sag slightly (the jumbled 'Secret Lovers' sounds vaguely like two different songs being played at the same time) fortunately the bubblegum bounce of 'Someone New' and tumultuous closing number 'Sister' sustain the quality of the first half.
A definitive marker planted in the ground amidst the band's estimable work rate (the group issued six singles in under two years prior to the LPs appearance) the follow up will doubtless build on the benchmark established here and almost certainly land in 2015. Prior to that however
Cursing the Sea
is a highly impressive opening gambit.