September Girls – Age Of Indignation (Fortuna Pop!)
The Dublin quintet return with darker, more lyrically ambitious second album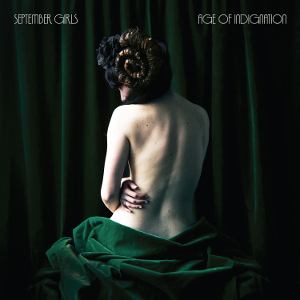 As its title makes plain,
Age of Indignation
the second album by Dublin quintet
September Girls
is an irascible, dissatisfied dissection of contemporary affairs, tackling its subjects with passionate fury. The follow up to impressive debut 2014
Cursing the Sea
(
review
), the ten track affair sees all of the quintet bringing songs to the table and a swerve away from the Mary Chain/Phil Spector inspired pop of their first album towards material painted in far darker hues lyrically and musically.
The sepulcharul Ghost, the longest track of the set opens proceedings, the churning guitars of this and Jaw on the Floor, replete with shadowy backing vocals courtesy of Oliver Ackermann, frontman of NYC noise rock crew A Place To Bury Strangers ensuring that the band's new approach is writ large from the word go.
Moving away from the immediacy of early landmarks Heartbeats and Green Eyed, tracks here are longer and more slow burning. Giving greater emphasis to lyrics this time around, hitting thorny subjects, religion, abortion, institutional corruption head-on, while the LP was set to tape in Dublin's Orphan Studios the step up from home recording seemingly hasn't made much difference to fidelity, the murky surfaces occasionally a frustration given how compelling the lyrics are.
Similar to their debut, the centre of the album features the strongest run of tracks, the title track's social media skewering lyrics, swirling wall of sound and
'I will never let you know'
hook is one of the most immediate moments on the LP. Lead single, the churning Love No One opening with ink-black waves of guitar and led by haunting harmonised vocals lingers in the memory while the doomy Salvation, opening up into full blown chorus is one of the most melodic things here.
While the gothic melodrama of the tempo switching Catholic Guilt and John Of Gods are slightly overwrought, sleek penultimate track Quicksand brilliantly distills the album's sound into four compact minutes and sounds highly likely to be a future single. The final track Wolves, the song writing debut of drummer Sarah Grimes is an intriguing piece that matches a Joy Division style drum pattern with cold synth motifs that could well be an avenue worth pursuing.
While the set would have benefitted from a few more of the short sharp missives the band made their name with, Age Of Indignation shows the band developing their sound to dramatic effect while their burning ambition can't be faulted.
September Girls play live:

Sun May 15th – Arts Club Loft, Liverpool
Mon May 16th – O2 ABC2, Glasgow
Tues May 17th – O2 Academy 3, Birmingham
Weds May 18th – O2 Academy 2, Oxford
Thurs May 19th – O2 Academy 2 Islington, London
Fri May 20th – Full Moon, Cardiff