Sean Rowe - Magic (Collar City)
No Leonard Cohen, that's for sure.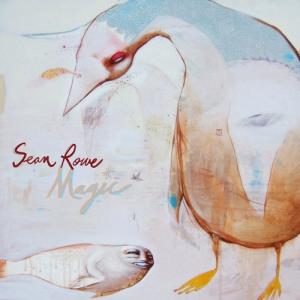 Sean Rowe: Naturalist, Wild food forager and folk singer songwriter. In that order, I'm afraid. Rowe's PR company liken him to the great Leonard Cohen, a tall order for any folk artist I'd imagine. It is evident these comparisons refer to the deep timbre of his voice, but it feels a little strained to be authentic, or perhaps it's just the levels it's been mixed to. In the opening track 'Surprise' his booming voice is startlingly loud, coming across like a lion wailing about a thorn stuck in its' paw.
As the album progresses it feels more relaxed, the pace and style more natural. 'The Walker' is by far my favourite, although I wonder if it's because the guitar-picked intro reminds me of Cohen's 'Suzanne'. However, It's a much warmer, fuller sounding track, as Rowe sings about a man he sometimes comes across on his many foraging excursions in NY. His favourite past-time, and perhaps one, I mean in the best possible way, he should pursue further, his blog is far more fascinating than this.