Samantha Crain - Kid Face (Full Time Hobby)
Oklahoma songwriter once again proves herself a remarkable talent far beyond her (supposed few) years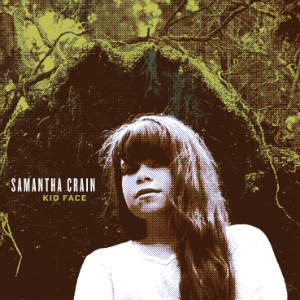 The rich and rewarding third full-length album from Oklahoma-based singer-songwriter
Samantha Crain
finally gets a UK release on Full Time Hobby, a label known for working with a raft of folk-inspired artists.
Kid Face
, with its sympathetic production courtesy of
John Vanderslice
- a gifted songwriter in his own right who has also worked in the studio with the likes of
Mountain Goats
and
Spoon
- puts Crain's enchanting voice front and centre to capture the tender, careworn feel of these songs.
'For the Miner', with its more overt Americana tendencies, loping rhythm and honky tonk piano, hits Kid Face's most poignant notes. Penned about the late
Jason Molina
(
Songs: Ohia
) - albeit written before his untimely death from alcohol-related illness last year - it finds Crain adopting what's almost a dustbowl blues swagger, though the track is nevertheless a heartfelt tribute filled with warmth and empathy despite the darkness of the subject matter.
When she opines on 'Paint' that, "I'm almost young this year now that I'm older," it serves as a touching reminder that while she's undoubtedly fresh-faced (the album title is a reference to this), Crain's bittersweet confessionals reveal the stories of someone who has seen and experienced a lot. It's possible to hear the emotion being wrung, utterly convincingly, from every composition. The title track in particular lays bare a cracked yet stoic vulnerability, with her vocal again the emotive fulcrum, and adding extra layers through multi-tracking works to great effect both rhythmically and sonically.
While Crain's voice is her most potent instrument here, the musicianship on display complements it perfectly. Finding magic and beauty in simple guitar melodies and sparse piano, her songwriting flourishes in quiet yet moving vignettes such as 'The Pattern Has Changed', 'Ax' and album closer 'We've Been Found', whose aching fragility recalls the work of
Sharon Van Etten
and
Meg Baird
of
Espers
.
With the album's more expansive arrangements, such as 'For the Miner' and 'Sand Paintings', there's a more muscular setting for Crain's bruised laments, the latter especially harking back to the formative influences dug out from her father's record collection - including
Dylan
and, most noticeably,
Neil Young
. Despite having a sound which is steeped in Americana and US folk tradition, there are shades of British folk too, which should ensure transatlantic appeal; though with songs this assured and beautifully crafted, you'd find it hard not to fall under Kid Face's captivating spell.