Saint Agnes: Welcome to Silvertown (Death Or Glory Gang Records)
Rising gothic alt. rock quartet fulfill their promise on strong debut outing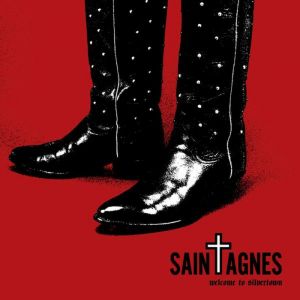 Named after the band's London manor,
Welcome To Silvertown
sees gothic alt. rock outfit
Saint Agnes
bring their excellent run of singles and their explosive live set to vinyl. Defined by the vocal interplay between Kitty Austen and Jon James Tufnell, gnarly blues riffs and the battering ram strength of their rhythm section, the group's songwriting strength is in full evidence here.
Self-produced and engineered alongside Wytches / Uncle Acid & The Deadbeats associate Luke Oldfield, tracked almost entirely live at what seems to be near-deafening volume, the LP has the fell of being sat in the room with the band. Hardly anything here sounds like it has been subject even to overdubs, the thin, crisp layer of distortion applied to the vocals underlining their disinterest in unnecessary studio gloss. In an era when rock bands have their records severely compressed so the vocals and regular 4/4 thud of the bass drum become the principal features to do battle with pop acts on the radio, Saint Agnes admirably couldn't care less.
With Kitty Austen's vocals cutting through with laser-like intensity, like John Bonham and Keith Moon before him, the simple principle of beating the living shit out of the drumkit serves excellent tubthumper Andy Head well. His rhythm section compadre, bassist Ben Chernett brings bass-from-Hades to
Diablo Take Me Home
and lends gothic melodrama on keys to
Move Like A Ghost
. While the quartet's principal influences hail from the States, Jon James Tufnell's superb guitar work at times tap into the seam of London-born blues titans like Peter Green and Mick Taylor.
While their tracks slot neatly into the lineage of The White Stripes, The Dead Weather and The Kills, Saint Agnes possess more than enough personality to stake out their own territory. One of the album's highlights, I Got A Drum trades the bludgeoning power of the singles for a simmering tension powered by bassist Chernett's almost dub sounding line and swampy organ keys. The atmospheric I Feel Dangerous Around You evokes the too late to sleep, too early to rise tension of Portishead, while seven-minute desert rock epic
The Witching Hour
boasts Austen's strongest vocal performance. The shadowy Black Horse switches between restrained verses and the emotional release of the choruses, while Why Do You Refuse To Die? develops into a dust bowl blues rock workout, with wailing backing vocals reminiscent of PJ Harvey's Kamikaze. Heart Of Mine, a touching slow blues which sees Kitty and Jon accompanied by a lone slide guitar and harmonica which sounds like a 2am jam at Mick Jagger's gaff in
Performance
supplies an superb sign-off.
With an increasing number of souls signing up to their coven, expect more converts to arrive following this. Welcome To Silvertown and yes, to state the obvious, you'll want to stay a while.
4/5
Saint Agnes Tour Dates:

Fri Jun 14, The Glass House, Ashford
Mon 24 Jun, Metropolis Studios, London
Thurs 4 Jul – Sat 6 Jul, Rock For People, Czech Republic
Thu Jul 25 – Sun Jul 28, Standon Calling
Fri 26 Jul – Sun 28 Jul, Trebur Open Air Festival, Germany
Fri 26 Jul – Sun 28 Jul, Truck Festival, Oxfordshire
Sat Oct 12, Twisterella Festival, Middlesbrough
Weds Oct 16, Jimmy's, Manchester
Thurs Oct 17, Broadcast, Glasgow
Fri Oct 18, Sneaky Pete's, Edinburgh
Fri Oct 18 – Sun Oct 20, Swn Festival Cardiff
Sat Oct 19, Arts Club, Liverpool
Thurs Oct 24, Dingwalls, London
Fri Oct 25, The Cookie Jar, Leicester
Sat Oct 26, Record Junkee, Sheffield
Tues 12 Nov, Revolver, Oslo, Norway

Tickets