Russian Circles: Memorial (Sargent House)
Chicagoan prog/post-metal trio unveil impressive fifth LP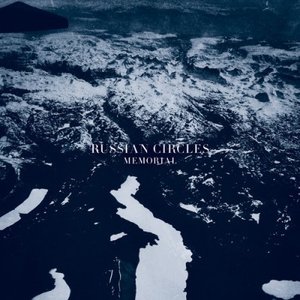 Continuing their fondness for single word album titles established in 2006 with their debut LP
Enter
, instrumental prog/post-metal trio
Russian Circles
uphold the trend with their fifth long player
Memorial
.
Former touring partners with Tool, the album sees the US group suffusing the torrential riffage of earlier works with intricate baroque prog rock motifs redolent of Pink Floyd and Genesis in the 1970s. Long term fans needn't worry however as Mike Sullivan's thunderous guitar assaults still remain, with the synthesized strings of bassist/keys man Brian Cook taking on the vastness of Holst's
The Planets
. Elements of post-rock also enter the fray, the spacious arrangements calling the likes Slint and Godspeed! You Black Emperor to mind alongside the
strum und drang
of the band at full-tilt.
Creating a colossal sound by utilising an exacting mixture of light and shade as opposed to keeping the needle in the red by brick-walling the tracks during mixing, Secret Machines member/ Interpol associate Brandon Curtis logging his third production credit with the group keeps proceedings tightly focussed. Keeping a tight reign on the running times, the trio turn in their most concise collection of tracks to date, each cut segueing into the next, the set demans to be heard as a complete work.
With the track titles also centred around single-word monikers, hushed prelude piece 'Memoriam' switches focus to introduce the hard impact of gale force guitars and thrashed cymbals that underpins deathly waltz 'Deficit'. The intricate drum pattern that anchors '1777' showcases the exemplary stickmanship of Dave Turncrantz the track seemingly recorded entirely live, the room reverb allowing the listener to be at close quarters with the group. After the initial opening clamour the track moves into calmer pastures before gradually winding down like a vast production line slowly coming to a halt. 'Cheyenne' sees the clouds part and the atmosphere become calmer, possessing the same wide-open vistas as director John Ford's 1964 classic
Cheyenne Autumn
, the band summoning up a similar panoramic viewpoint.
Kicking off Side Two, 'Burial' is a weak link in the chain, a fairly standard set of taut riffs that doesn't possess the same level of invention found elsewhere. The gorgeous swoon of 'Ethel' founded on an uncoiling series of guitar figures transmogrifies into an almost ambient wash of sound that inhabits the same space as Brian Eno's groundbreaking 1970s work. 'Lebaron' last but one, possibly deriving its name from an early Chrysler model, or alternatively the leader of a fundamentalist branch of the Mormon Church is slightly inconsequential, making way before the LPs coup de grace, the title track.
Led by Chelsea Wolfe's diaphanous vocals, 'Memorial' leaves the album's standout moment til last, evoking a darker incarnation of alt rock/country outfit Mazzy Star gliding down a night highway, the track blending the trio's trademark guitar crunch with mournful lap steel and overwhelmingly elegiac atmosphere to match the sombre title. With the aforementioned Ms. Wolfe co-headlining their recent European tour, Russian Circles look to be in serious danger of heading overground and
Memorial
certainly sounds like the album that will achieve it.