Robin James - Paper Earth (Pocket Size)
This spare, unsettling and spookily powerful album is like a missive from another age. Singer/songwriter Robin James abandoned London for a life of quiet contemplation. He now lives on top of a rectory in Yorkshire, listening to Gregorian chants and growing vegetables. But this back to basics lifestyle doesn't seem to have given him much peace of mind: Paper Earth is a long dark night of the soul in musical form.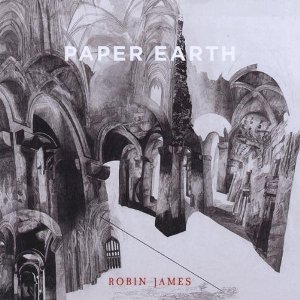 The album was recorded using vintage analogue equipment in three days, with no overdubs - appropriate for a work which seems to have nothing to do with the modern world. Haunted, frightened, and obsessed with the state of his soul, James' worldview seems more that of a medieval hermit monk: terrified he's lost his faith, alone in the cold and dark with only his thoughts for company.
But this bleakness of tone is so convincing that it is the album's major strength. Heartfelt and often desperate, it's far removed from the affected "oh poor sensitive me – I wonder if this'll get the girls?" act of some of his more self-conscious peers.
Most songs consist of James' unusual, feminine voice over simple acoustic guitar figures, with plenty of space left to enhance the atmosphere a la Nick Drake's haunting
Pink Moon
. But unlike James' debut
Saint Jude
, other instruments occasionally intrude: a droning organ, small doses of piano or strings, or iconic Scottish folkie King Creosote on wine glasses and accordion.
Most songs see James fighting for psychic survival: even female companionship struggles to keep the darkness at bay. 'Good to Die', reminiscent of Spacemen 3 in one of their quieter moments, sees him meet a "little-known Danish pop star", who the album is dedicated to. However, he does so while carrying a cross around Edinburgh and thinking longingly of death…
Elsewhere, James is submerging himself in the earth ('Under Around'), "just trying to die well" ('Over Me'), and trying to keep life at arm's length ('Breathe'). But there are shards of light such as the cautious rebirth of 'Paper Plane' ("I'm daring to love / and be known / so I start again…") and the reassurance of the pretty 'Alive Allowed'.
A couple of tunes broaden the stark musical template somewhat. 'Good to Die''s unusual wine-glass-and-accordion arrangement adds another dimension to his sound. And the churchy synthesised organ and ominous chord change of 'Judas' have the spook factor in spades.
Full of asceticism, guilt, fear and doom,
Paper Earth
is strong medicine. But if you stick with it, it's a grower: an unusual, poetic, and powerfully affecting piece of work.