Robert Rotifer: Holding Hands In Petropolis (Gare du Nord Records)
Classy set from multi-hyphenate Austrian broadcaster and musician features lyrics to die for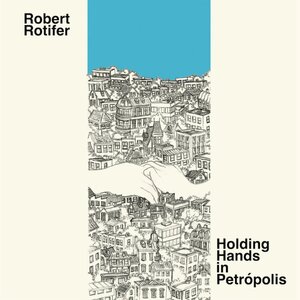 For many musical acts, the passing of the years is a painful fact best ignored. But for a certain type of singer-songwriter - such as Austrian journalist, radio presenter and musician
Robert Rotifer
- it's a blessing.
Holding Hands In Petropolis
is a set of literate, melancholy songs whose muted, autumnal melodies take second place to their thoughtful, nuanced and funny lyrics.
Most of the tunes share the same palette. Rottifer's conversational, half-spoken vocals and monologues unfurl unhurriedly amid a soundbed of acoustic guitar, brushed drums, country-tinged guitar, subtle keys and string interjections. They feel like variations on a theme, their purpose to provide a pleasingly unobtrusive support for Rotifer's (very fine) words. They sound less like songs per se than characters thinking, in real time.
The album is bookended by two epic tunes, of which the opener He's Not Ill works best. It's a deeply empathetic piece inspired by the decisions of two great artists - legendary director Jean Luc Godard and wartime emigre Jewish Austrian writer Stefan Zweig, along with his wife - to end their lives, albeit for very different reasons. Its conclusion is heralded with an elegaic surge of strings.
This song lays out two of the album's main raison d'etres. The song's narrators are often looking back at their lives and working out how to exist honestly and meaningfully when their youthful energy and optimism have dissipated or been tempered by life's vicissitudes. And they generally contain killer one-liners and couplets ('
There's a way of giving notice / and the x stands for a kiss
').
There is real lyrical clarity here: every song examines a different idea, as the personal melds with the general and the political. That Was The Time looks back at the decades of disappointment suffered by those on the British left: from the Thatcherite 80s ('
I was a teenage fool / I had some badges / that they wouldn't let me wear at school
') to the betrayal many felt in the Blair era and beyond ('
We all knew it was bullshit / but we swallowed every drop
'). However, tubthumping is not Rotifer's style and he undercuts any hints of self-righteousness or pomposity with tricksy touches ('
This song is so self-reverential, it's in its final verse...
').
Those Dreams Again examines bad dreams, insomnia and general mental unease, confessing: '
Maybe we're more messed up than we pretend to be
'.
Chewing On The Bones of the Saints may be the album's most poetic title. It wonders how a later musical generation can ever compete with the untouchable icons who got there first. And what about these idols' feet of clay? After all, '
The music's still great but the lyrics are a mess
'. And for all the revolutionary rhetoric, the bastards are still running the world...
The duet Red, Yellow, Orange and Green is a welcome slice of optimism, the album's sole love song. Unsurprisingly, this is deflated by its successor Change is in the Air ('
...and change is what I fear
').
Closing song Slipped in the Rain struggles to justify its length, its central metaphor not quite landing... although there is something apposite about basing an entire song around the bathos of falling over and ruining your trousers! Nevertheless, Rotifer's intriguing trains of thought and way with words make it easy to get lost in the meditative grooves of this subtle, affecting album.
4/5