Richard von der Schulenburg: Moods and Dances 2021 (Bureau B)
Hamburg DJ pays tribute to library music with mixed bag of all-new compositions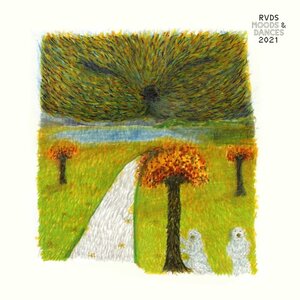 Many of the most famous TV themes of the last few decades were produced as library music. The insanely catchy titles for
Grange Hill
,
Grandstand
and
The Archers
(ask yer folks!) were originally sold to music libraries by jobbing composers for a set price, then licensed out for TV, film and radio use. In recent years, DJs and crate-diggers have used old loungey exotica, for instance, to add a fresh flavour to their music.
Well, everything eventually comes full circle - and instead of sampling such tunes, Hamburg musician / DJ
Richard von der Shulenberg
has created a whole new album inspired by the genre. Most of the pieces on
Moods and Dances 2021
are named after the equipment used to make them, and aim to conjure up "
palm trees and pyramids, promenades and portals
".
These pastiches are authentic in their inauthenticity, if you catch the drift. You can imagine these combinations of drum machines, cheesy organ and various 'exotic' sounds playing in the background of some 70s international thriller or sci-fi show. However, some are rather too weird for that, and a few tunes would make more impact at a shorter running time - with this sort of thing, less is often more.
Mrs Yamaha's Summer Tune opens things on the beach, with pensive synths and ersatz South-East Asian percussion meshing with drum machine pops and clicks to create a subtly funky ambience. The more minimal Caravan of the Pentamatics has a heavier drumbeat and whiney synths (one of the album's prime characteristics), and somewhat overstays its welcome.
Flowers for the Farfisa Sphinx has a spooky, 'sci-fi Kraftwerk' vibe with a needling, catchy synth hook. Roland's Night Walk is a jazzily sedate saunter through space, while DX7's Broken Hearts is a waltz for robots. Dance Of The Space Pentax is so-so despite bangin' bass, while Wersimatic Space Bar is an organ-tastic showcase retooled for the 30th century.
After a rather so-so middle section, the album ends on a high. Penultimate tune Planet Dragon squeakings giving a touch of jazz fusion. The End (la la) is even better, the album's one genuinely great moment: blissing out via synth-bass, birdsong, sampled spoken-word sections and '
la la la's
' to serenade us into the land of nod.
This has its moments but could do with some pruning - it would make a decent EP, rather than a so-so album.
2/5
Richard von der Schulenburg Links