Real Estate - In Mind (Domino)
New Jersey indie pop outfit with reliably breezy fourth album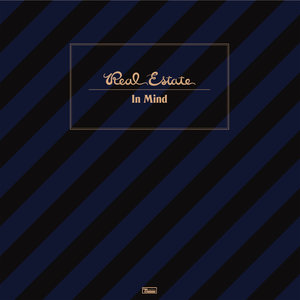 Three years after their acclaimed third LP
Atlas
and following the departure of guitarist Matt Mondanile to concentrate on psych pop band Ducktails, New Jersey indie pop types
Real Estate
return. Carving themselves out a respectable niche as purveyors of light-touch sun dappled guitar pop or what used to be known as college rock over the past decade,
In Mind
sticks to the formula with reliably melodic results, with a dusting of electronic frosting on several tracks.
The unison guitar/harpsichord led Stained Glass and the dancing guitar refrain of Same Sun are standouts while Diamond Eyes is possibly the summit, brief, beautiful alt. pop with a vocal melody weirdly reminiscent in places of I'd Like to Teach the World to Sing (or alternatively Shakermaker by Oasis). As texturalists the five piece can almost give fellow East Coasters The War On Drugs a run for their money for guitar tones while Serve the Song almost serves as a nod to the band's modus operandi, as almost everything here is performed in service to the track, no showboating, extended outros or guitar histrionics. That said, the one occasion when things tip over into indulgence is on the repeated arpeggio outro of Two Arrows before abruptly cutting out, a nod to The Beatles' I Want You (She's So Heavy).
While diversions into industrial techno or a belated discovery of trap beats are unlikely for the present band, you occasionally wished that the quintet would mix things up a bit more. Ear balm waltz After The Moon is wonderful but doesn't really lodge itself in the memory while Holding Pattern glides past with little impact. In the plus column White Light is a gorgeous acoustic led strum that breaks into a succession of Roger McGuinn style arpeggios towards the close, while Saturday unfolds beautifully from its reverie of piano and guitar into its wobbly fuzz toned coda. No giant leap forward and no retrogressive step either on this evidence the value of Real Estate remains high.