Race Horses - Furniture (Stolen)
What a difference an album makes. Welsh indie types Race Horses raised from the ashes of Radio Luxembourg with 2010's goofy, super-catchy debut Goodbye Falkenburg. But while that album fizzed with an infectious love of life, Furniture is a more conflicted beast.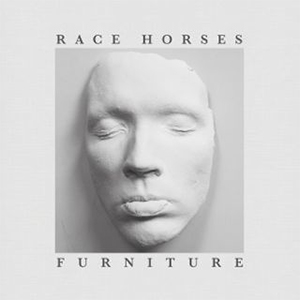 Now expanded to a five-piece, the new-look band give us an arty take on a big, shiny, 1980s pop record – like a lost 'Now That's What I Call Music' compilation from 1985. But the mood is much more sombre. Lyrically, if Radio Falkenburg was a carefree teenage party, this is the hangover the next day. Fading love, irritation, uncertainty, and loss of direction…life's not all fun and games.
Luckily, the band has a knack for melody that makes these depressing insights sound fantastic… and a torrent of musical ideas. Every song is packed with surprising sonic details, often sounding like several tunes mashed together. Idiosyncratic arrangements mesh A-Ha-era drum machines and keyboards with clarinets and bassoons, all topped off with mellifluous vocals.
Such an approach occasionally makes the album sound more like an intriguing compilation than the work of one band; however, it's hooky as hell, and almost every song sound like a potential single.
Opener Furniture sets the lyrical tone, a tale of a stale relationship set to a queasy synth riff. Elsewhere, songs feature dramatic flourishes and frequent tempo changes ('Mates'); and start off as ballads, disintegrate then pull themselves back together again ('What Am I To Do'). Nobody's Son's intro is outrageously reminiscent of Queen's 'Radio Ga Ga' (though we're guessing Brian "I love badgers" May is too nice – and rich - a man to sue…).
My Year Abroad is moody and windswept, with a hint of Ultravox and OMD, while Sisters would fit nicely on Pulp's His 'N' Hers. And just when it seems like the band is getting over-fond of throwing the entire kitchen sink into the mix, haunting orchestral fragment World 6 and sparse closing ballad Old and New act as musical palate cleansers.
Packed with ideas, unafraid of a chorus the milkman could whistle, and just weird enough, Furniture is pop with brains – a reminder of the days when Julian Cope, ABC and the Human League were bona-fide pop stars. Now where did I put those fingerless gloves?