Pure Bathing Culture: Pray for Rain (Memphis Industries)
US alt. pop duo follow up acclaimed debut with excellent second set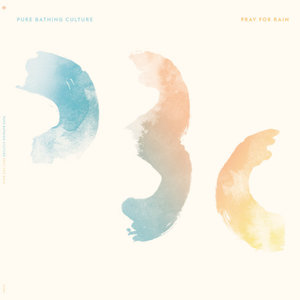 The follow up to their ethereal first LP
Moon Tides
, one of the strongest debut albums to emerge from the States in 2013, alt. pop duo Sarah Vesprille and Daniel Hindman have bettered the disc with the second
Pure Bathing Culture
album
Pray For Rain
.
Bringing a synth pop edge to the the dreamy template established on their debut, first LP material their principal calling card, singer/keyboardistVersprille's clarion vocals remain at the centre of proceedings.
Produced by the near-legendary John Congleton (St. Vincent, Sigur Ros, John Grant) at his studio in Dallas, guitarist/keyboardist Hindman states that during recording Congleton ensured that the album was as close to the band's live sound as possible, even resorting to trickery to prevent additional layers being added. The result is a set of tracks imbued with the feel of 'sitting in' with the group, that succeeds in sounding expansive yet somehow intimate at the same time.
Constructed around guitar arpeggios, gently pattering programmed rhythms and synth textures, the likes of Darling, Save Us and Singer are brilliant examples of what painters term
chiaroscuro
, balancing light and shade perfectly. The title track,a refracted guitar figure led by Vesprille's upfront vocal is surely the best song Cocteau Twins never got around to writing, which vies with I Trace Your Symbol for showcasing the pair's ability to write hooks that weave their way into the memory.
Drawing inspiration from American poet/ progressive thinker H. D. (Hilda Doolittle), the album's summit Palest Pearl features lyrics written in response to 1944 poem
The Walls Do Not Fall
by the Pennsylvania born writer. Elsewhere Maximilian's Ring, (possibly influenced the priceless emerald ring housed in the Smithsonian Institute) revolving around a dusky sounding guitar figure has a darker tone than the surrounding tracks, before the album bows out with the slow lullaby of In the Night, In the Peaceful Night.
A subtle repositioning of the sound minted on their debut, the blissful indie pop of the present album may yet be a portent of even greater things to come.
Pure Bathing Culture Links