Pure Bathing Culture: Moon Tides (Memphis Industries)
Sparkling dream pop debut LP by US duo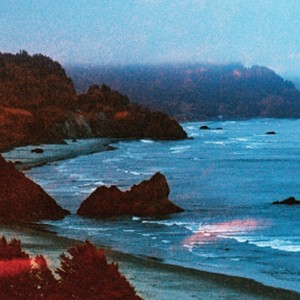 Pure Bathing Culture
comprising of vocalist Sarah Versprille and guitarist Daniel Hindman deliver a set of sumptuous dream pop with
Moon Tides
, their first LP after a debut EP release last year.
Hailing from Portland Oregon, home to legions of US indie bands, the pair currently make up half of noted acid folk ensemble Vetiver.
Honing in on a sound that blends the shimmer of leftfield 1980s pop with the lovelorn feel of Buckingham-Nicks era Fleetwood Mac, the LP title and indeed the band name are in keeping with the themes of the album, reportedly inspired by astrology, New Age philosophy and tarot cards.
Leading off with the swooning rush of 'Pendulum' the track somehow manages to condense the band's sound into one enveloping wave, a stunning opening gambit that ranks as one of this year's best singles.
Following this the album continues in much the same vein throughout, Versprille's siren-esque vocals cutting though a early morning mist of instrumentation created by Hindman's guitar arpeggios and synth washes.
'Dream the Dare' built around sampled handclaps and cascading guitar figures and 'Twins' bearing traces of
Hounds of Love
-era Kate Bush influence prove to be similarly gorgeous, Versprille's vocals reminiscent of the Cocteau Twins' chanteuse Liz Fraser, while the songs' brilliant surfaces call The Blue Nile to mind.
'Scotty', sixth (any relation to the character recently played by Simon Pegg unclear) is the centrepiece of the album, constructed around spare guitar strums, reverbed vocal and bare bones rhythm track, Versprille's torch song vocal making full use of the expansive arrangement, the track majestically progressing into one of the LPs finest songs.
The spiralling waltz of 'Seven 2 One' meanwhile provides a welcome shift in tempo amongst the slow-drifting dazzle of the nine tracks here, while 'Temples of the Moon' last is a compellingly downbeat send-off, an undulating bass figure framed by a gothic chorus that drifts off into the dusk after the noon-bright opening stretch.
A sure-footed first excursion that seeps deliciously into the brain with repeated listens, with
Moon Tides
Pure Bating Culture have seemingly established a new benchmark for dream-pop. One of the best debut albums to come out of the US this year.
Pure Bathing Culture Links