Psychedelic Porn Crumpets: Night Gnomes (What Reality?)
Classic UK psychedelia, US alt rock and the Aussie group's own secret formula blended to perfection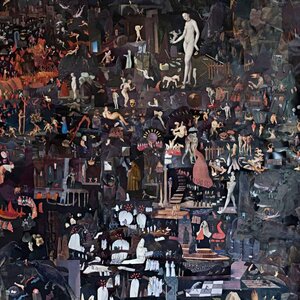 So if you're reading this, then obviously you haven't been put off by the name yet. Good work on that front, and welcome to the land of gnomes and acid - albeit more of a modern incarnation than that of a bygone Syd Barrett era, with all due respect given.
The Aussie quintet are back with their fifth album in six years, which is nothing on King Gizzard terms if we're playing that game - but it's still pretty damn impressive, and wonderfully concise too. It's possibly a hard thing to say with the outfit's moniker in mind, but maturity in writing prevails this time around with a keen ear for fascinating melodies and sections. The cold hard slabs of riffs are there of course, but they perhaps take a middle row seat in the travelling funbus of hippy trippy adventures.
Night Gnomes
prides itself on its soft centre. As sweet as its title, Sherbet Straws provides a gorgeous, melodic structure and guitar fingerpicking mastercraft. The way it soaks itself in psych-y syrup really hammers it home, so much that it could go on for another fifteen minutes without a hint of grating. While the originality should be in plain sight here, comparisons ought to be made to fellow Perth-dwellers Tame Impala and their debut album
Innerspeaker
– a pinnacle of the newer psych sensation that rightfully took the music world by storm some ten years ago. It's only fair to have this flag fully flying forever.
There is a shimmering wealth of inspiration from start to finish. Hints of Jane's Addiction appear in heavy sweat-doused anthem Bob Holiday and vocals on tunes like
Lava Lamp Pisco
seem reminiscent of Virginia stoner-rockers Pontiak. Classic bands like Soft Machine are visible too, such as the unpredictability of Microwave Dave and the title track as well. Its twists and turns and chord changes really tickle the brain and keep it interesting as well as entertaining. Let's not overlook the opener Terminus, The Creator either and that incredibly excitable intro of electronic hysteria that would be an ice cool show-starter. Kashmiri style string sections in
Dread and Butter
are also worthy of a special mention.
With all the elements intact here, and an album sleeve that could rock any wizard's mantlepiece, they really have the capacity to rekindle one's love of riffmongering rock bands. Don't disappoint yourselves, go and see them live and let them show Warburton's the ingredients that they're missing for the perfect crumpet recipe.
4/5
Psychedelic Porn Crumpets UK Tour:

15th Aug, The Forum, Tunbridge Wells - Sold Out
17th Aug, Brudenell Social Club, Leeds - Sold Out
18th Aug, Rescue Rooms, Nottingham
20th Aug, Green Man Festival, Brecon - Sold Out
21st Aug, Junction, Cambridge
22nd Aug, Think Tank, Newcastle - Sold Out
23rd Aug, Saint Luke's, Glasgow - Sold Out
25th Aug, Band On The Wall, Manchester - Sold Out
26th Aug, O2 Institute, Birmingham
27th Aug, Thekla, Bristol
29th Aug, The Loft, Southampton
30th Aug, Concorde 2, Brighton - Sold Out
1st Sep, Electric Brixton, London
2nd Sep, Norwich Arts Centre, Norwich - Sold Out
3rd Sep, Manchester Psych Fest, Manchester

Tickets here
Psychedelic Porn Crumpets Links