Pop Levi – Medicine (Counter)
LA/Liverpool cult rocker returns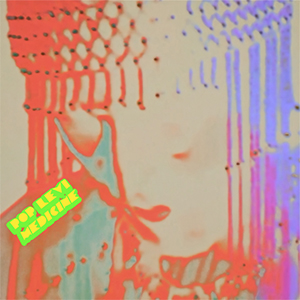 Four years after his second album
Never Never Love
,
Pop Levi
returns to pick up pretty much where he left off, with a third offering of electro-glam rock, pop-psych cuts that pay equal homage to Bolan and Prince.
Front loaded with singles, the sticky sweet melodic refrain of 'Strawberry Shake' sets things off at a gallop, with the bludgeoning metallic riff of 'Motorcycle 666' following immediately after.
Reaching its summit during the middle stretch the title track, augmented by 'Honky Tonk Women' style clomping cowbell and the reflective 'Bye Byes' featuring a bassline unmistakably the work of LA/Liverpool co-conspirator
Lucky Beaches
.
The brilliantly simple chord vamp, backed with a similarly 'play in a day' drum pattern for 'Police $ign', which iconoclastically breaks midway through for a handclapping interlude in place of a guitar solo demonstrates Levi's innate knack at crafting simple, ruthlessly efficient guitar riffs that anchor the songs while the vocal melodies and accompanying electronics swirl above it. Indeed, in the heads down no nonsense boogie stakes 'Terrifying' trudges along on a brilliantly sludgy riff that outdoes The Black Keys at their own game before switching to an airborne bridge that lifts the song up another level.
'Records', constructed around a vintage Moroder synth pulse and acoustic guitar is the most Paisley Park indebted moment on an LP chock full of them, that calls the Twin Cities' most famous son circa
Around the World in a Day
to mind. More 80s references abound meanwhile in joyous penultimate cut '
Remember Remember'
, the accompanying synthesized horns making the track bounce along like the best bits of
Let's Dance
era Bowie.
Although highly unlikely to win any new converts at this late stage,
Medicine
effectively marks a continuation of what Levi has justifiably become a cult figure for, and is by no means any the worse for it.