PINS – Wild Nights (Bella Union)
The sound of PINS continuing on the road to cult status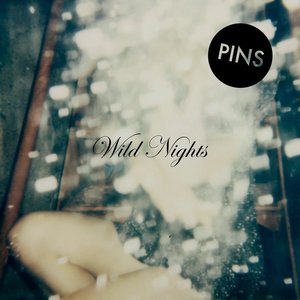 PINS
have all the attributes of a cult band; their own record label (Haus of Pins), the passion and energy to organise nights to promote other bands, angular haircuts, a style that is both dry and instantly recognisable, and now a second album that continues from where the first left off. However, while
Wild Nights
still has the cutesy, jarred rhymes of PINS' debut, the arrangements have been refined.
Right from the very start of
Wild Nights
, PINS show how much they've grown since their self-titled debut. Opening track 'Baby Bhangs' is a more complete beast than on some of the debut. Sure, on their last album stand out tracks such as 'Girls Like Us', 'Get With Me' and 'Darkest Day' were strong – not forgetting the darkly grunge 'Luvu4lyf' which didn't make the album – but this time around there is an ease with which PINS are putting out material.
On 'Young Girls' all parts seem to fall into place, even a yelp and the exhaled, "
what will we do when our dreams come true, young girls?
" seems less forcefully aggressive than the band's debut. However, that track is by no means the best on the album. And it's by no means a show stopper, but it does highlight that PINS are now strolling, rather than forcing their talents.
The headline tracks are the likes of 'Oh Lord', 'Molly' and 'Everyone Says'. These three show a better grasp of range that was not quite there on PINS debut. 'Oh Lord' is a driving smoke bomb of a track. Taking this to their much praised live set may well have them hitting all the right heartstrings as well as smacking, and reverberating against all the support beams in the tiny venues of the UK – and now Europe thanks to their tour with Sleater-Kinney.
As for these live performances, PINS are selling out venues then following this with sold out gigs supporting the aforementioned Americans. They will also be touring with Drenge solidifying their growing reputation of being appreciated by their fellow bands.
PINS showed potential with their debut, this second effort is the sound of that potential being controlled, refined and more considered. But the quirks that endeared fans to their riot grrrl stylings are still there. Songs like 'Too Little Too Late' has the lovely crude rhyme that PINS have made into their own, "
I forgot to say happy birthday/I hope I didn't spoil your party
." Still grounded, steaming and smoking but more measured and considered,
Wild Nights
is the sound of PINS continuing on the road to cult status.