Pino Palladino & Blake Mills: Notes With Attachments (New Deal Records)
Occasionally dazzling, sometimes unfocussed, storied sessioners team up for collaborative LP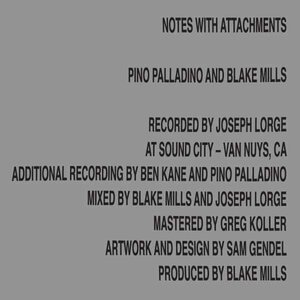 Superstar bassist
Pino Palladino
and guitarist / producer / solo artist
Blake Mills
have worked with a remarkable list of musicians over the years. From old-school legends like Bob Dylan and The Who to rootsy modern indie types like Phoebe Bridgers and Cass McCombs and progressive R'n'B superstars D'Angelo, Eryka Badu and Anderson .Paak, the list goes on and on.
Palladino had planned this record as a solo excursion before it transformed into a collaboration with Mills. Over several sessions, the duo rounded up some high-end musical mates for open-minded jams that indulged their experimental leanings. Improvisation, technically superb playing, horns, weird time signatures… this is a jazz record of sorts. So is this post-everything supergroup a noodly indulgence, or a brave new sound-world? A bit of both actually...
Lovely opener
Just Wrong
shows that this outfit is best when it allows its melodic gifts free rein and doesn't try to over-egg the pudding with too many conflicting ideas. Led by Pino's bass, the prettily melodic composition is like a lost
Pet Sounds
instrumental with orchestral jazz undertones and a spacey, melancholic feel. Unlike some of the tunes here, it sounds like a composed piece, rather than a jam - and is all the better for it. Great wonky percussion and swirling strings too.
Ekute
is a strange beast, with Mills' hypnotic circular Fela Kuti guitar riff a thing of trance-inducing beauty. However, as with several of these compositions, Bearded finds itself wishing the band could just settle into a groove and stay there: sometimes less is more.
The album's horn interjections are a highlight, as are the swooping strings. But some numbers have got a bit too much going on. One wonders whether featuring so many stellar players led to complicated musical politics, with everyone wanting to 'get their bit in', regardless of whether the overall sound coheres.
It's all very well being clever, but there are times when a more straightahead approach would have upped the pleasure factor: horn lines allowed to repeat, grooves to continue, melodies to progress. With an average running time of three or four minutes, the tracks are often too short to fully explore their myriad musical ideas.
Notes With Attachments has its moments, but is ultimately less than the sum of its parts.
3/5
Pino Palladino and Blake Mills Links