P.G. Six: Murmurs and Whispers (Drag City)
Visionary US singer-songwriter combines intriguing range of influences to create magical, spacious post-folk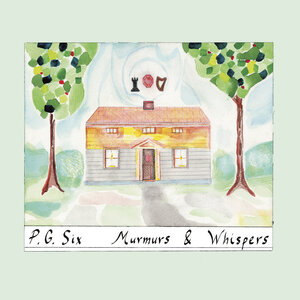 Neil Young is fond of saying his best music has 'the spook' - a freaky, otherworldly quality that transports the listener somewhere else entirely. He had it on tap in the mid-70s... and now it seems that Pat Gubler, aka
P.G. Six
, has located its source.
Murmurs and Whispers
, out now, is the harp-playing troubadour's first album in over ten years, and well worth the wait.
These tunes are rooted in the ancient ballads, of obscure origin, that have been the basis of the western folk tradition since time immemorial. Love is won and lost, the seasons pass, happiness is fleeting, the world still retains its mystery and we must face our fates stoically. The lyrics to these songs are plain but poetically resonant, while a medieval peasant would recognise their worldview.
And this is where the alchemy occurs. This is no mere exercise in traditionalism or pastiche, but a bold collage of ancient and more recent influences. At various points, this writer was reminded of Magnet's
Wicker Man
soundtrack, Greensleeves, Bert Jansch, a medieval court, the Grateful Dead, and post-rock. All these influences subtly infuse the tunes, and the result is intensely atmospheric - like being transported to an alternate dimension version of the Middle Ages.
On lovely opener Leaves and several other songs, Gubler's intimate, understated vocals and patiently unfolding guitar lines are complicated - or threatened - by spacey synth lines and drones. It's as if an Elizabethan courtier had been accompanied by 70s Robert Fripp.
To these ears, this is a distinctly lysergic vision: the feedback-strafed
I Have A House
is pitched somewhere between spooky and terrifying. Tell Me Death, a duet with a particularly gloating Grim Reaper, has echoes of Jerry Garcia's lonely, fatalistic, "
It's beautiful here but there's no way back
" deep space ballads. That isn't to say the record is bereft of consolation. Just Begun welcomes new love, to a beautifully unreal minstrel flute; Barley Wine decides that life may be grim but at least we can get pissed; while Foggy Hill closes the record with two minutes of bucolic prettiness.
I Have Known Love is heartstoppingly lovely, a Scottish ballad that is so full of emotion it could burst, joy and sorrow so intermixed that it is impossible to tell where one ends and the other begins. The instrumental Meandering is easy on the ears, but the only weak link on the album. More ambitious is the eight-minute epic I Don't Want To Be Free, where a hypnotic mantra gives way to several minutes of beautiful exploratory sax that wouldn't be out of place on an ECM album.
Plenty of LPs are a collection of decent songs. It is much rarer to come across one that is such a perfectly realised whole.
Murmurs and Whispers
honours the past while suggesting several intriguing new directions. A triumph.
5/5