Pete Astor: Time on Earth (Tapete Records)
Indie icon surveys his life in classy, thoughtful fashion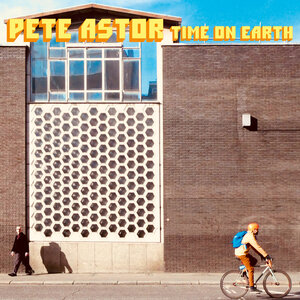 Pete Astor
is a multi-hyphenate nowadays. Onto to his eleventh solo album and still gigging regularly, he has two other musical projects on the go (spoken word act The Attendant and duo Ellis Island Sound). Plus, impressively, a straight gig as the University of Westminster's senior lecturer in music.
Maybe because of his many commitments, this is the former Loft and Weather Prophets frontman's first record under his own name for five years. The mood is autumnal, melancholic (though not downcast), semi-acoustic and profoundly English. Its songs are concerned with the passing of time, the toll this takes and the potential compensations to be found when "
The past slowly becomes a bigger country than the future
".
The tastefully underplayed tunes (by a band whose alumni have the likes of Dexy's, Death in Vegas and Paul Weller on their CVs) also track the vicissitudes of a life soundtracked by music. Opener New Religion suggests that, ultimately, it doesn't make much difference if you genuflect to Jesus or Johnny Thunders. We all need something, or someone, to believe in. Nice groove and trippy harmonies, too, overlaid with cheesy OTT synths for those listeners worried that all this well-crafted songsmithery may be a tad too well-behaved.
Many songs seem to look back to Astor's youth. Sixth Form Rock Boys is a particular highlight, celebrating carefree, cocksure 70s schoolkids via glam rock references and handclaps. Drinking in the park, tripping on the lawn, convinced they have nothing to learn from the square world soon to envelop them. On a different tip, unless this writer has got completely the wrong end of the stick, Soft Switch is the world's most romantic paean to self-abuse.
English Weather
is an exception to the album's predominance of tightly structured, three- and four-minute tunes. Stretching out to an epic seven-plus minutes, its pastoral loveliness is decorated with some gorgeous piano. And...breathe.
The title track makes Astor's allegiances clear as it plays tribute to the world's outsiders. It honours a local eccentric, a Sun Ra type who says he "
Came from Kenya via Saturn / never asking for permission...
"
The album closes with two very different takes on death. Undertaker is ambivalent at best, a softly sung kiss-off to someone who "
Seemed so important once / that's not the case any more
". It also contains the album's only (deliberately?) ugly rhyme (undertaker/ incinerator). Tramping the dirt down indeed.
Closer
Fine and Dandy
is a neat 180 degree turn, a celebratory garagey 60s rocker with a great Kinksy title and economical, less-is-more (old-school) R'n'B riffs. The song's narrator beams in from rock 'n' roll heaven, urging his mates not to worry about him. Everything turned out fine for the ageing reprobate ('
I'm having a drink with Kevin Ayers / And Syd says hello...
').
It's a hearteningly upbeat end to an album full of complex emotions couched in deceptively simple language. No song here is less than listenable, though a couple (Miracle on the High Street, say) are less memorable. Nevertheless, it's the sonic equivalent of an arm around the listener's shoulder - acknowledging loss and disappointment while still finding plenty of reasons to keep buggering on, as Winston Churchill put it.
7/10