Peggy Sue – Choir Of Echoes (Wichita)
Folk/alt rock/pop trio finally find themselves a niche with third record Choir Of Echoes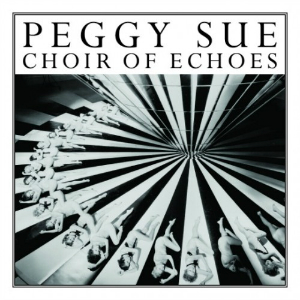 Almost a decade into
Peggy Sue
's career (criminey, that's flown by), the Brighton threesome are unshackling their third studio full-length into our mortal plane. Now they've settled fully into their sonic identity and sobriquet after a few tumultuous phases of name-changery and stylistic alterations, we can get down to the gristle of Peggy Sue instead of focusing on the surrounding hubbub.
Choir Of Echoes
, though it insinuates a bleak, post-punk world, is actually rather sweet throughout. Not twee, nor candy-coated, but a mid-'90s naiveté found in the kind of noises that soundtracked films like
American Pie
and
Matilda
. There's more bite and lo-fi scuzz, and this most definitely is not anything by
Eagle-Eye Cherry
, but the central tenet of youth, love and carefree whimsy remain intact. It's nice to listen to something with such a bold, unwavering optimism – even in its darker minutes, Choir Of Echoes retains a beam of hope, no matter how slight.
They've intertwined their folk beginnings with a frenetic fretwork of alt.pop, and some tracks, like 'Electric Light', aren't too far removed from
alt-J
or
Everything Everything
. There's plenty of acoustic guitar on display, as well as other more varied instrumentation interspersed, like the brass on 'Figure Of Eight'. There's some genre deviation too, with '50s rock 'n' roll ballads ('Longest Day Of The Year Blues'), as well as grunge and surf-pop on the scatterbrained 'Esme'. Peggy Sue provide many variations to their various themes on Choir Of Echoes – even though the sounds differ and warp and evolve during the course of their 13-track LP, they don't lose their newfound tone. There are experiments and digressions, although they never stray too far from the pre-planned route.
"Choir Of Echoes is an album about singing," the band explain in their press release. "About losing your voice and finding it again. Voices keeping each other company and voices competing for space." Harmonies definitely have an impact, with nigh every cut featuring pristine vocal duels – not just backing the lead vocals, but making a concerted contribution and injecting further textures and layers into the mix. 'Always Going''s doo-wop background vox are testament to that, as are the 'do-do-do's on lead single 'Idle', which act as a rhythmic force rather than a melodic one. But it's not just the surface-level sounds that are centred around the human voice – the innate optimism comes from there too. It's the strength, the blossoming courage and the stoic belief that incite it.
It may have taken far longer than anticipated, but Peggy Sue have found themselves a nook in which to inhabit (or at least for now, anyway). It's a wonderfully dishevelled place they find themselves in. Scruffy around the edges, but warm and gooey in the middle. It's an endearing listen, and one that leaves a lasting mark in your mind – days and weeks after you've stopped listening, their 'in from the cold' style of cute-meets-shaggy (not that Shaggy) sound will keep you smiling. If not in the face department, your brain will. It'll be all like "C'mon dude, cheer up. Remember that Peggy Sue record? Remember how awesome it is?" and you'll quietly nod. "Yeah. I do."