Panda Bear: Buoys (Domino Records)
On his seventh studio LP Panda Bear dips his toe back into early Animal Collective for inspiration on Buoys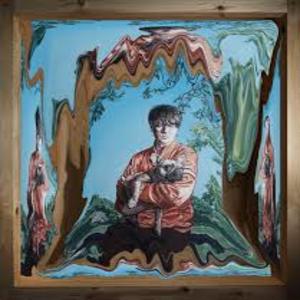 Since the release of 2007's Person Pitch, which helped change the direction of Animal Collective's sound and define the landmark album
Merriweather Post Pavilion
,
Panda Bear
, AKA Noah Lennox, has pushed forward with the most summery of sounds. However, this latest effort seems to take a step away from the chillwave genre he pioneered. Whether that's because he wants to see what else he can do, or because the summer only lasts for so long, it's not quite certain.
On
Buoys
there is certainly a hint of the sounds that won him so many admirers on
Person Pitch
and
Tomboy
, but there is also a strong presence of early Animal Collective in the guitars that grate just off pace in the background to songs such as 'Inner Monologue' and 'Token'. There is a definite toe dipped back into the stripped back days of
Sung Tongs
where acoustics took prominence over electronics.
"When I wrote the songs, it was just guitar and singing and a simple rhythm arrangement." says Lennox, "(Producer) Rusty's first move was to mute the guitar. That was the biggest change that took place before the finished product". But even though there is a pared back result, the effects and unique electronic echoes that make it uniquely Panda Bear are still present. And Token as well as 'Master' hold the bouncing repetition of a chorus that give the album an undeniably, and weird, catchiness. Throughout this album there is a theme of water on the crossover of the title
Buoys
and the opening dripping on 'Dolphin' as well as underwater bubbling on Crescendo.
Buoys
is also flowing with collaboration from throughout the Baltimore denizen's career. Alongside producer Santos, the LP features collaborators in Chilean DJ/vocalist Lizz and Portuguese musician Dino D'Santiago, both artists who came to Lennox via Santos' recent trap and reggaeton production work; the former contributes arrangements throughout, and both lend their vocals to Inner Monologue.
Overall, this album doesn't seem as well rounded as the musician's best work on
Person Pitch
and it falls slightly short of the relentlessly catchy chorus reverberations that captured so many imaginations on some songs. However, as Lennox says, this could be a move away from his previous work as he defines where he goes next. "The last three records felt like a chapter to me, and this feels like the beginning of something new - it feels like I'm turning the page a little."
4/5