Pale Honey: Pale Honey (Bolero Recordings)
Promising debut set from Swedish minimalist alt. rock duo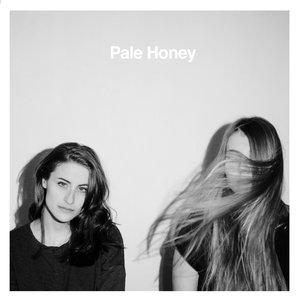 Yet another garage rock duo is probably not what the world needs right now. Ever since Jack and his 'sister' Meg emerged from Detroit in the early 2000s there has been an endless parade of increasingly desperate sounding two-pieces that have failed to re-create the unforced brilliance of the Whites' career.
Thankfully Gothenburg duo
Pale Honey
successfully swerve being dumped into the same landfill as a host of other bands (no names, no pack drill) by steadfastly avoiding the gnarly blues riffs plus clodhopping drums equals rock Valhalla approach. Comprising of Tuva Lodmar, guitar/vocals and Nelly Daltrey drums, the pair create something sharper and cleaner.
Pushing Tuva's plaintive vocals to the forefront and keeping the instrumentation unfussy, the group land close to a sound that calls to mind nineties indie (PJ Harvey/Sleater Kinney) meshed with the dynamism of post-rock (Low/Slint).
The pulsatant 'Over Your Head' revolving around an intriguing chorus of '
I love the way you put me in the jailhouse
' and 'Youth', the track that initially served notice of the duo's talent combines synth pop with bludgeoning riffage, the latter's '
I get around
' lyric unwittingly/deliberately referencing The Who's totemic 'My Generation'.
Where the duo really score is on the low-key moments, as 'Bandolier' a succession of lightly strummed guitar chords and fuzzy bassline-led verses is one of the strongest cuts here, along with 'Desert' that thrums along on a soft drum machine patter overlaid with hazy guitar figures.
While the influence of PJ Harvey seeps through on 'Fiction' hinging on a taut, sparse riff, 'Tease' edges a bit too near to the distorted vocals heard on early Harvey LPs
Dry
and
Rid Of Me
and sounds slightly uninspired compared to the surrounding material.
Backed by what appears to be an ancient harmonium/pump organ meanwhile 'Sleep' provides a downbeat farewell, the most desolate track on the LP providing a resigned parting gesture.
A bold statement of intent first time out with more than enough indicators the band will further blossom, Pale Honey are well deserving of close attention on the current evidence.