Oxygen Thief - Accidents Do Not Happen They Are Caused (Xtra Mile)
Barry Dolan finally unleashes the rock within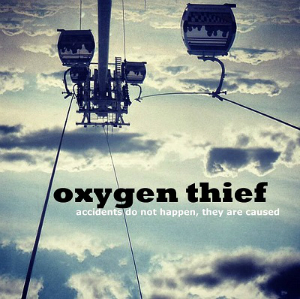 The road from electric to acoustic is a road far less travelled than the quest from lone singer-songwriter to full-on outfit. While we have no shortage of early 2000s heavy guitar music switching to the hollow body to sustain themselves before a long since dissipated audience, it's rarer to see an acoustic act wait over half a decade before realising that playing with a band is more fun for everybody. That's why we started our bands with our mates in our parents' garages amongst stolen bottles of gin and a never-ending supply of sandwiches - though the gin was certainly superfluous and a bit weird.
But for
Barry Dolan
, who has been playing under the
Oxygen Thief
nom-de-plume for about seven years, it's incredible that this debut, full-band mini-album only just surfaced in 2013. Just in time for Christmas, though.
We've seen
Bob Dylan
do it, and we saw
Elliott Smith
do it. But Dolan is neither of these, obviously, and he's actually really different - he's as far from an acoustic singer-songwriter as you can get without putting down the acoustic guitar and not writing songs. His acoustic tracks have always been riff-heavy, hugely influenced by the heavier side of late 90s indie guitar music - he's been entertaining live audiences much in the same way as any of his full band contemporaries would. If you were to catch a live show and see his swirling ponytail, full of sweat dripping down the microphone through which he screams his refrains, you'd know instantly that you hadn't accidentally walked into the Log and Straddle's Tuesday night open mic night.
The explanation for holding off on this full onslaught could well be that he simply never noticed he was on his own up there.
But this is not a record of new material, rather an anthology of older tracks that appear on his previous efforts, 2009's
Exclamation At Asterisk Hash
- a split with
Jim Lockey
and
Ben Marwood
- and debut full-length, 2011's
Destroy It Yourself
. But it's a weird experience listening to Dolan's music through the medium of electricity - the fact his songs have always been heavy as shit means they're less of a revelation and more of a realisation.
The songs themselves take the familiar off-kilter chord strikes and support them with a similarly punctuated drumbeat. The breakdowns are highlighted with a stoic bass line rather than acoustic root notes but really, it's all very familiar. Just, louder. Much louder. However, Dolan's huge and powerful delivery often felt at odds with his acoustic approach rather than the guitar itself. Where his choruses and refrains would sometimes cut above the guitars, they now sit well within the powerful, distorted, and wailing guitars producing a sound that is equal parts brutal and melodic.
It's hard to imagine that anyone familiar with Oxygen Thief will be disappointed with this upgrade. Dolan's songs have always held a passion that is unrivalled by other independent songwriters - acoustic or otherwise - so for first-time listeners, you're in for a hard rock treat to the face.