Os Noctambulos: Silence Kills (Stolen Body Records)
1960s inspired Parisian garage rock outfit return with atmospheric third LP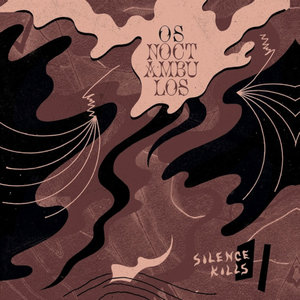 Os Noctambulos
are a garage band from Paris, whose third record
Silence Kills
, a collection of 60's influenced psychedelic rock is a complete and mature step forward in the band's fledgling catalogue. With a sound that is equal parts autumnal brooding and revivalist bombast, this eleven-track disc marks them as amongst the best groups of their ilk.
To say that
Silence Kills
marks a windy trail through haunted territory, littered with gems would be a staggering underestimation. Tracks like the resplendent, You Walked Away so blissfully melancholy with its jangly guitar feedback and the punk meeting rattlesnake shake on, A Man Needs A Home stand alone as anthems, worthy of being blasted from the windows of ancient apartment houses. I will confess to knowing very little about the Parisian psychedelic rock scene that spawns the band. But I have been to the city and wandered around in living history and Os Noctambulos' sound feels right at home in a gypsy cabaret on those narrow cobblestones wandered by the glowering figure of Victor Hugo.
Among the album's strongest offerings, I Don't Know Why is a reflective dream piece with gloomy underpinnings. It effervesces that jittery preacher feeling of Southwest desert garage rock. I really enjoyed, The Day We Touched The Sun and Come Back To Me which were examples of neo-classic psychedelic rock at its nostalgic best. There is hardly an instrumental misstep among these tracks to my ear, every one a fully fleshed out idea brought to vivid life in the band's more than capable hands.
On previous Os Noctambulos (meaning "night owls") singles and EPs (as well as 2016's excellent album,
Stranger
) the band's sound had more jangle and came across as far less defined. This album, however, in addition to meeting its instrumental aspirations features polished layers of production. The whole record sounds cavernous and alive.
Featuring an exciting sound,
Silence Kills
is, by every possible measure, a record worth listening to and in-depth exploration.
4/5